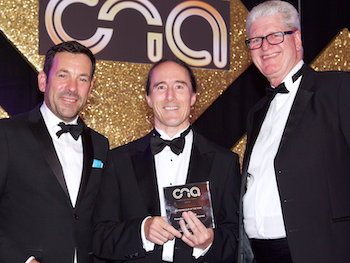 Looking back on his career, it is his quest for a higher purpose and the creation of a people-first culture that Zen Internet founder and Chairman Richard Tang recalls most fondly.
And it should come as no surprise that his mission to do good, and more besides, secured him this year's Comms National Awards Entrepreneur of the Year Award.
Tang had ambitions to set up his own business from an early age, setting up Zen Microsystems in 1994, offering software development services. A year later he was in a pub enjoying a pint with his brother Dan discussing whether the Internet would take off. The two brothers then set up Zen Internet in 1995 and sold their first dial-up Internet service for £10 per month. In 2008, during a paragliding trip to Bhutan, Tang was inspired by the Gross National Happiness philosophy of the King of Bhutan. This led him to create Zen's most fundamental long-term objectives of Happy staff, Happy customers and Happy suppliers, which remain the foundation of everything Zen does to this day.
Today, Zen has grown into a business approaching £100 million turnover and employing over 500 people. In 2020 it became a member of the B-Corp movement, a global movement of people using business as a force for good. Tang has committed to never selling his shareholding in Zen to ensure that the people-first culture is always maintained.
Tang's educational career is also impressive, born and brought up in Rochdale,  he secured O-levels, A-levels, a Degree in Computing and a Post-graduate diploma in Computing, specialising in 3D graphics and neural networks. "When I was at primary school in the 1970s I had a dream to set up a big multi-national corporation and use the profits to save the third world from starvation," commented Tang. "I'm inspired by people working to make the world a better and more sustainable place."
When I was at primary school in the 1970s I had a dream to set up a big multi-national corporation and use the profits to save the third world from starvation
Before establishing Zen, Tang travelled through Pakistan, China, India, Nepal and Hong Kong for nine months. Prior to that, he worked for a small business in Kingston upon Thames designing computer hardware. "I thought of the name Zen while still at school," he explained. "Zen Microsystems was a play on Sun Microsystems. The 'Zen' came from the eastern influence of my dad who came from Hong Kong. I needed a 'pretend' company while at school so that electronic component manufacturers would send me their data sheets. When I set up in business for real as a software developer in 1994, I used the same name, Zen Microsystems. When we set up the Internet business a year later, Zen Internet was the obvious choice."
The launch was self-funded with Tang's life savings of £5,000. First year turnover was £59k (1996 year-end). In 2021, turnover is expected to be £92 million and Tang owns 100 per cent of the ordinary shares. "The biggest highlight has been the journey itself," added Tang. "Some of the best moments are when long-standing employees tell me how much they enjoy working at Zen. When this happens, it's a great confirmation that what I'm doing is worthwhile."
Zen has grown organically for all of its 26-year life. The growth is fuelled by reinvestment of profits from previous years. Zen's most fundamental long-term objectives, in priority order and as indicated above, are Happy staff, Happy customers, and Happy suppliers. "Everything we do ultimately contributes to one or more of these objectives," stated Tang. "It creates a culture where people come first and money second.
"I'd like to see Zen maximise its potential in the market. We have the opportunity to become a true challenger brand to the biggest names in our industry, and become a household name as a broadband supplier. Looking at the bigger picture, I would like to see Zen be part of a shift towards a more ethical way of doing business, a way that puts increased focus on the wellbeing of society and the sustainability of the environment, and less focus on money-centric goals that benefit the select few.
"We put people first, money second and continually strive towards our happiness objectives along with continual improvement, by every single member of staff. We accept that we are all on learning journeys, throughout our lives and careers.  We all make mistakes, and I want everyone at Zen to feel comfortable sharing their mistakes openly and positively to reinforce their own learning and to share that learning with others. We make decisions that are morally right, for the long-term and always respectful of others. We stretch people in a positive way to drive not only their productivity, but their own development and feeling that what they are doing is worthwhile. And we empower people to use their initiative, be creative and make the decisions that they believe are right.
"I don't want armies of process robots.  Processes are just tools that people should choose to use when the process fits the situation. But when the process doesn't fit, people should feel empowered to do what they believe is right – deviate from the process, or ignore it altogether, and then take ownership to update it if necessary."
According to Tang, the 2020s is the decade of full fibre. "That's where the money is going to be made over the coming years," he stated. "Currently, broadband continues to do very well. Cloud and SD-WAN also continue to grow strongly. We dipped our toes in the business of selling mobile handsets a while back, but that didn't do particularly well so we pulled the plug on it."
Tang's role continues to change and develop alongside the ever-changing and developing world of technology. "There are so many new things to interest me, and new opportunities to challenge me, that I don't feel the need to do anything particularly proactive to keep my enthusiasm for it all," he added. "I feel incredibly lucky."
Pictured: Plaudits aplenty: Richard Tang acclaimed at last month's Comms National Awards