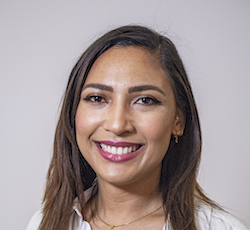 Gender diversity and inclusion is a critical component of BT's strategy and culture, and the company continues to show that there is no shortage of female talent.
Enter Linda Ikwuagwu, Director of Wholesale Solutions at BT Wholesale, whose leadership credentials and achievements should be celebrated.
The male-heavy nature of the comms sector should not detract from its capacity to produce impressive female leaders such as Ikwuagwu, who is using her experiences to lead and develop the next phase of BT Wholesale's solution offering. Yet despite Ikwuagwu's pedigree in comms her career path could have been very different. She studied Law at the London School of Economics and would have likely pursued a legal career had it not been for her interest in business which led to a Masters in International Business & Management at the Alliance Manchester Business School. She then interviewed for a number of roles and 'stumbled' into the Vodafone Future Leaders graduate scheme.
"I was applying for business and law positions but I ultimately liked the idea of rotating across different teams at Vodafone," said Ikwuagwu. "During the scheme I made tactical choices about where I wanted to spend my rotations and made sure I was exposed to management roles. In particular, as a Regional Support Manager, I was exposed to a host of skills such as people management, store management and how to hit KPIs. This early role helped me to progress quickly as a manager, then a leader, senior leader and now a director."
Ikwuagwu went on to head-up discussions on behalf of Vodafone during the Government's Shared Rural Network Initiative. Four mobile operators (EE, O2, Three and Vodafone) got together to discuss how they could establish a commercial construct to share infrastructure to address partial not spots. "I was the only female leading the negotiations in the room and it was a turning point for me as a leader," added Ikwuagwu. "I learned how to play to my strengths and honed in on my skills as a commercially savvy and sound negotiator."
I was the only female leading the negotiations in the room and it was a turning point for me as a leader. I learned how to play to my strengths and honed in on my skills as a commercially savvy and sound negotiator
Ikwuagwu also led the Digital Portfolio for Vodafone and was responsible for a considerable capex investment to launch new capabilities, solutions and customer experiences across 11 digital platforms. "There are a lot of synergies between that role and my position today," she commented.
Before becoming Director of Wholesale Solutions, Ikwuagwu was Head of Access Partnerships at BT which included managing partnerships generally, but managing the Openreach partnership gave her an appreciation of the different requirements between BT's Wholesale channel and direct selling. "Success in my previous role hinged, in part, on my ability to understand the wholesale channel and deliver access outcomes for them, from FTTP and SoGEA, to Ethernet and OSA," said Ikwuagwu. "Since taking on my new role I've been working closer with BT Wholesale Managing Director Alex Tempest and her leadership team to truly deliver what channel partners need. I'm working closely with propositions, product, digital and more to ensure we are bringing solutions to market that drive the right customer experience."
The Wholesale Solutions arm functions in three main areas – delivering product portfolio enhancements, identifying new opportunities for converged solutions and optimising the customer experience for the wholesale channel. "We're creating a new level of strategic partnership," added Ikwuagwu. "It's about creating converged solutions that fix a pain point and provide incremental value.
"As an example, there's a huge amount we're doing in the run up to the PSTN switch-off, and by listening to partners we can create solutions that get them prepared to tackle the shift to all IP and help educate their customers. Put simply, it's about solving pain points together to generate long-term value."
There is no reason to gender stereotype certain behaviours
The multifaceted aspects of Ikwuagwu's new role reflect the many attributes that make up a good leader, like communication, energy, the ability to cut through noise and navigate complex situations. But for Ikwuagwu, trust is the foundation of everything. "To be a great leader you need to trust your team and they need to trust you," she added. "Mutual trust and respect are key because in business it's all about the journey and how you get there together. Fostering this environment means you will challenge each other to get to the best outcomes, and that's how you progress and innovate."
Gender diversity and inclusion is also at the forefront of Ikwuagwu's thinking, and mentorship and diverse leadership is crucial, she believes. "Organisations must make sure that employees are exposed to leaders that represent them, so they have someone to look up to and learn from," she stated. "I've benefited hugely from mentorship and it's amazing to have someone in your corner who backs you even if you fail."
It would also be beneficial for female leaders in particular to undergo mindset training, believes Ikwuagwu. "A lot of the time, women don't know their brilliance," she added. "Training across the industry would be a wonderful first step. That said, to make any progress telecoms and channel organisations need to address pre-existing biases and gender related stereotypes. Deep-rooted unconscious biases mean we hold different people to differing standards. It's up to companies to really start to challenge these stereotypes and drive open conversations.
"For example, there is no reason to gender stereotype certain behaviours – such as women being empathetic and men being ambitious – because we are all people and we all have the ability to turn the dial up or down on any behaviour regardless of our gender. The channel needs to create a culture where we consciously challenge these assumptions and stereotypes."
Just a minute with Linda Ikwuagwu...
Role model:
A constant source of inspiration is my dad and some of the managers and leaders I have had throughout my career.
Your biggest fear?
Spiders.
Best advice you have been given?
Take opportunities as they arise. And always know what value you add, then work your angle.
One example of something you have overcome:
Racism, prejudice and bias. That's not to say they don't still occur, but I have methods to overcome them when they arise.
Tell us something about yourself we don't know:
I am a Blackpool lass, but the accent doesn't always give that away. I am also a PADI qualified scuba diver.
If you weren't in ICT what would you be doing?
Something in business, perhaps pure Tech, FinTech or starting up my own company.
Who do you admire most in the channel?
Alex Tempest, BT's MD of Wholesale – a strong female leader with amazing passion and expertise in the wholesale market.
The biggest risk you have taken?
Opting to study Law at university after having been primed for a career in medicine. I come from a medical family, both parents are doctors, and all three siblings are in a medical capacity.
Name one thing you could not do without in your job:
Yorkshire tea bags – a proper brew.
How would you like to be remembered?
As having impact, bringing people together, delivering change and a people person.    
Top tip for resellers:
The move to all-IP is inevitable and there is strategic value in getting ahead of that curve.