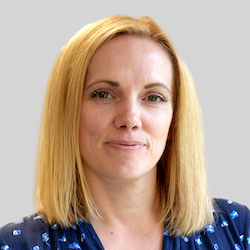 SCC's newly opened Scottish office is the precursor of a significant expansion campaign across the region led by SCC long-termer Lindsey Hunter, Branch Manager for Scotland, Northern Ireland and the North East.
Here, she opens up on her big ambition to unlock the full potential of this burgeoning country while rethinking customer and partner engagement, driving staff development and being at the vanguard of digital technologies.
SCC generates circa £38 million revenues in Scotland and opened its first Scottish office in Glasgow in 1986. It currently employs 44 people north of the border and has invested over £100k in its new Scottish headquarters, located at Interchange Business Park in Livingston. The move is expected to create dozens of new jobs as the company targets 20 per cent regional growth this year and 40 per cent growth over the coming five years. "The opportunity to develop this business is huge, particularly given SCC's investment in digital technologies," stated Hunter. "In the short-term I want to make sure we hit our ambitious growth targets for the year and build new areas of customer engagement. Long-term, we will continue on that growth journey and embrace SCC's vision to become a leader in digital transformation services."
Hunter cited research that forecasts the Scottish software and IT industry to grow 38 per cent by 2024. At the same time, the Scottish economy is expected to expand during 2024 and 2025, albeit at a slower rate than in previous years. "Technology and digital transformation will play a huge part in this growth and companies that invest in transformation and innovation will be at the forefront," commented Hunter.
"As a privately owned family run business SCC has the ability to spot trends early and invest ahead of the curve. That's what we're doing and will continue to do. I expect to see SCC in Scotland secure a significantly larger presence in the public and commercial sectors as a true digital transformation partner to customers."
Strong influence
SCC has a broad presence in the Scottish public sector, most notably in NHS Scotland where it has exerted a strong influence for more than 20 years, as well as in education and emergency services. The company also has a strong commercial portfolio supporting mid-market businesses in the legal and professional, energy, transport, manufacturing, utilities and FS&I sectors.
Once I got my mojo and the support I needed I've had the confidence to reach for the stars. Now I mentor some of our younger ladies and that's been a rewarding experience
More broadly, last year SCC launched a £300 million technology investment programme to underpin its growth, targeting purchases in a multi-year strategy aimed at consolidating the company's position as Europe's largest private investor in technology. This money was fronted in the form of £200 million of equity and £100 million of debt from the Rigby Group in November last year. "SCC is a top five European IT reseller and the 12th largest reseller in the world," claimed Hunter. "We aim to maintain and build on this position. SCC is investing in Scotland and our people and customers, and I want to build a renewed identity for the team as well as review our procurement strategy to ensure we continue to work effectively with our vendor partners. We will invest in high growth sectors such as hyperscale, cybersecurity and digital services to ensure that SCC's growth is at, or above, growth levels in the sectors we choose to be involved in."
Key investment
Hunter further underlined her point by citing SCC's key investment in Nimble, part of its Digital Solutions and Services Provider (DSSP) strategy which covers the whole digital transformation journey and focuses on helping customers with the complete story. "I expect to see great growth in this area," added Hunter. "It is particularly relevant in the public sector as organisations look to address legacy app estates that can hold them back from responding quickly to changing service demands and different ways of working. I also expect to see our commercial business to grow in Scotland, with a renewed focus on emerging markets."
Hunter has built a reputation within SCC and among customers and partners as being an excellent Account Manager. She hopes to pass on her skills by working closely with her team and coaching them, also leveraging her knowledge of SCC having worked for the company for almost 22 years. During this time she made her way up through various roles in admin, internal account management, internal sales, business development and account management, learning how each role adds value to the business and customers. "My experience has helped me understand how to get things done at all stages," she stated. "I've always been a conscientious, empathetic, organised person, who just likes being and working with people. That's helped me to build a good network and support both internally and externally throughout my working and personal life."
Hunter first entered the IT space when working in the project office for IBM during her third and fourth years at university. The company was handling the managed outsource of HBOS at the time and her attention was grabbed by the ever-changing, fast-moving pace of the IT industry. But to accelerate her own career pathway Hunter needed to overcome deep rooted challenges linked to anxieties and a lack of self-belief when she was younger.
"I remember James Rigby, our EMEA CEO, saying to me, 'the only thing holding you back is your own self-belief', and he was right," recalled Hunter. "Once I got my mojo and all the support I needed from SCC I've had the confidence to reach for the stars. I have faith in our team and business and what we can do to make a difference. Now ,I mentor some of our younger ladies and that has been a rewarding experience."   
Just a minute with Lindsey Hunter...
Role models:
David Attenborough because he's incredible, passionate, interesting and adventurous. And my colleague Ian Russell: I wouldn't be who I am or where I am without his friendship and mentorship.
Tell us something about yourself we don't know:
I love recreational trampolining!
Your main strength and what could you work on?
My superpower is doing many things at the same time intuitively and effectively. My weakness is empathy. It's a strength too, but I sometimes don't assert my own opinion enough.  
Three ideal dinner guests:
David Attenborough, I adore him; Sarah Millican because she's hilarious and just my type of humour; and Billy Connolly, a Scottish icon who can also bring the laughs.
Industry bugbear:
There needs to be a better way to address the skills gap. I'd also like to see the industry be more appealing to women.
If you weren't in ICT what would you be doing?
Helping people in some other way, like nursing or as a clinician within the NHS. I've worked with many staff at various NHS Boards in Scotland and they are all there for the same reason – because they want to give something back and see what they do as a public service.
Best advice you have been given:
Take a step back, take the emotion out of it and trust your instincts.
In hindsight:
I would have been bolder when younger.
How do you relax?
Trampolining! Also meditation, spending time with my husband and kids, cycling, hiking and Netflix.
Top tip for resellers:
Understand your value and 'why you'.