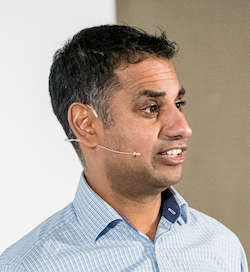 BT Wholesale has matured into a major channel force by following one simple principle – listening to partners and acting on their advice.
A headline example of BT Wholesale's capacity to listen and act, and announced at its Partner Plus Live event last month, was the introduction of EE connectivity on a wholesale basis which will be available in the new year. "Mobile is now an essential component of any voice sale," said Propositions Manager Garry Mistry (pictured). "Our partners have spoken to us, we have listened, and we have designed a proposition to suit their business. That means we are giving them freedom to add their value to small business customers, their value in terms of the contractual terms that they choose to sign and their value in terms of the overall proposition. It means our partners can lead with their brands in their marketplace, but they will have specific rights to reference the EE brand."
Mistry said the thinking behind the launch was the channel market opportunity identified. "We estimate that approximately 23 per cent of all mobile sales to small business in the UK are made via indirect channels," he added. "That's £750 million worth of annualised revenues. Businesses like Uber, Netflix, Instagram, YouTube and Amazon would not have evolved the way they have without the launch of widespread 4G. EE has pledged to make 5G available to 90 per cent of the UK landmass by 2028 and it will be fascinating to see what our partners do with this opportunity."
Mistry urged partners to act now rather than wait until the new year roll out. "We're solution ready and entering into trials, but my advice to our partners would be to start speaking to their account managers over the coming days and weeks and to start to landscape with them what mobile means to their business today."
Also announced was BT Wholesale's Complete Switch ISDN migration proposition which it hopes will enable resellers to ease the path to full IP, which thousands of small business customers have yet to tread with just 10 months to go to Openreach's WLR stop sell deadline next September. The initiative, dubbed '123 to All IP' bundles up the three elements the company has identified as log jams in the switchover process, namely on boarding and number porting, educating and enabling customers and marketing support.
BT Wholesale has amalgamated its layer three Broadband One offer and its WHC Express digital voice service into a joined up single order journey, underpinned by a suite of professional services. It claims this has reduced the time it takes to place an order from 13 minutes to five minutes. On number porting, the company says it has reduced customer fallout from 36 per cent to an average of 10 per cent and expects to reduce that further in time.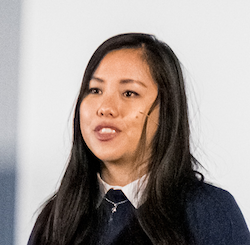 Proposition Specialist Wing Yee Lo (pictured left) said the programme has been designed to simplify the messaging to customers and navigate the complexities around migration. "Step one is for partners to on board to the hub and take advantage of the Complete Switch products which will enable them to hit the ground running," she said. "Step two is to educate and enable, which is exclusive to our partners and is arguably the most valuable step in this process. It's a tailored, personalised learning journey that's dependent on your role in the business.
"We've curated three separate streams, technical, business and leadership so that you can consume the information that's right for you," she told partners at the event.
"And in terms of the elements, we've got small technical elements, such as hub demos, and number porting deep dives, down to more software elements to help you build your 'why switch now' stories. Step three is marketing support. We now have an integrated all-IP campaign in a box that has all the assets you need to build an all-IP marketing plan," she added.
Viewpoint: A progressive and maturing channel model...
Coming of age is a well-worn phrase but it certainly applies to BT Wholesale. Originally founded in 2009 the company has gone through several transitions, latterly coming under the umbrella of BT Enterprise in 2018. Current Managing Director Alex Tempest joined from channel centric TalkTalk Business in 2017, and she and her team must take great credit for transforming BT Wholesale into a connectivity partner an increasing number of channel players now want to do business with. This was underlined late last month when Daisy Communications, one of the largest comms providers in the UK with 200,000 business customers, signed an enhanced partnership deal with the network provider hot on the heels of the Partner Plus Live event.