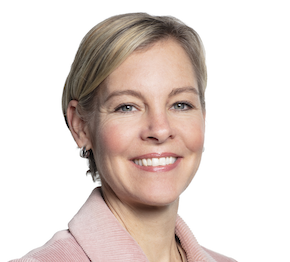 Colt CEO Keri Gilder on modern leadership, the need to build strong alliance ecosystems, technology priorities, how the pandemic set back D&I by years, and why pioneering female Boston Marathon runners inspire her most.
According to Gilder, the comms sector is in a period of reinvention and the Covid-19 pandemic has dramatically catalysed the change, creating a new requirement for business ecosystems to accelerate digital transformation. Here, she addresses some key industry, leadership and cultural questions, spells out what needs to happen in the comms sector, and shares insights into Colt's strategy to create sustainable change for the better.
Strategically, what did you learn from lockdown?
During the pandemic we saw how vital agile, on-demand, high bandwidth connectivity is, and how key it is that we provide the connectivity requirements for a broader ecosystem of partners, be those cloud, global content providers or enterprises. This focus on the wider ecosystem, and telecom's role as a universal connector, opened our eyes to some of the areas where the industry could be working together better on creating connections, both physically and from a relationship perspective, that really matter.
We now need to focus on partnerships and Colt's role in the ecosystem, because without the technological ecosystem, true transformation won't be possible. Enterprise requirements are continuing to be more complex and we need to join forces to deliver value greater than the sum of our parts. Cooperation, collaboration and co-creation with our partners is fundamental to unlocking and amplifying our joint value and, importantly, providing the best of our industry to end customers.
 
How do you define modern leadership?
When I think of leadership, I think of it as the ability to serve others. It's a privilege to be in these positions and it's a privilege to have the opportunity to lead employees, to develop them and to drive their success. I took on the role of CEO right at the start of the pandemic and the main takeaway for me in terms of leadership has been that it is all about listening. This is a critical skill that some of us take for granted, and that some of us don't do actively.
Since leading Colt, I've recognised how important it is to actively listen, and to make sure that I'm hearing what's happening within the organisation, within our customers, within our partners, and then being able to take that information, analyse it, and drive action against it. More than ever before, leadership is about building trust in your employees through transparency and creating the shared purpose of the business. Leaders are more visible, communicative, authentic and empathetic. Not only are you looking after the company from a strategic and financial point of view, but the role of the leader is also to inspire and build a business that looks after its employees just as well as it does its customers.
How has the pandemic impacted diversity and inclusion?
I have always been a champion of inclusion and diversity, and during the pandemic employee wellbeing and building an open and inclusive culture was my priority. It's amazing to see how our employees now have a heightened willingness to look after each other. Colt has always been a welcoming and supportive place, and the pandemic has only strengthened that sense of community and openness. Unfortunately, the pandemic has dealt a big blow to the work that's being done in diversity, equity and inclusion, and the world has gone backwards instead of forwards. Just in terms of gender equality across the world, it will now take us 137 years to reach our most basic target. A target that was only 90 years pre-pandemic.
We now need to focus on partnerships and Colt's role in the ecosystem, because without the technological ecosystem, true transformation won't be possible
I call it a crisis, because in the telco industry we will have a talent crisis if we don't take DE&I seriously. If you want innovation, you have to think seriously about DE&I and we are way behind where we need to be. For women in particular, we need to find a way to get them back into the workplace. It's also about creating an inclusive environment where diverse talent will be able to thrive and where they will want to stay. Never has DE&I been so important for individuals, businesses and our industry globally.
What are your other key priorities?
Partnerships and collaboration with the ecosystem is a priority for Colt. Collaboration can play a big part in how we create value for our customers and for our own business. As an industry, we need to find our place back in the value chain, and working with our partners to collaborate, co-create and unlock joint value is going to be central to that.
Automation is also critical going forwards. Here, too, I think we have a serious problem around attracting and retaining the right talent, especially on the software side. We're facing a retirement cliff and losing out to other industries that are asking for the same digital skills that we need for this kind of innovation. Much of my work with TM Forum as Chair of the Inclusion and Diversity Council is looking at how we can fix this, because at the moment our ability to attract talent is very limited. Again, we need to think collaboratively around talent, sharing resources and building programmes that will attract more of the diverse talent that the industry needs.
How is Colt harnessing new technologies?
Emerging technologies are having a major effect on the market and it's vital that we each make the most of the opportunities they offer our businesses. Internally at Colt, we know that automation, Machine Learning (ML) and Artificial Intelligence (AI) can bring value to so many areas of our business. When it comes to our IQ Network, we're looking to ML and AI to build networks that can reroute to avoid traffic-heavy areas and self-heal, and bundling our connectivity with emerging technologies to position us as an enabler of digital services. AI and ML can also improve the customer experience by predicting trends and specifics for customers, so we're one step ahead of them.
 
Early in May this year I visited Boston for our board meeting, a week after the Boston Marathon had taken place. This year's marathon was a special event as it marked 50 years since women officially entered the race and celebrations focused on recognising the amazing women who made it happen. I read about these women and couldn't help but to be inspired.
First, there was Bobbi Gibb, the first woman to ever run the race in 1966. Bobbi hid in some bushes near the start, as she was not allowed to enter officially, jumping into the crowd of male runners. She finished the race and proved a woman could compete, but her run was unauthorised, her time not recorded.
Then Katherine Switzer, who in 1967 was the first female Boston marathoner to score a bib and the first woman anywhere in the world ever to have officially run a full marathon. She did this by registering using only her initials K. V. Switzer and keeping her gender a secret. She completed the course but, after that, the Amateur Athletic Union banned women from competing in long distance running until 1972.
I find these women inspirational. They were pioneers, broke the mould and changed the world. They had to break the rules of their 'industry'. They had to take risks. They had to believe in themselves when no one else did. They had to show the world a different way of thinking. It made me think that that's exactly what Colt and our industry needs to do. Be bold and willing to stand up for what we believe in. Willing to do something different. Willing to take a risk to change the way the industry works.