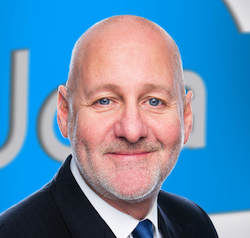 It is unclear how the UK's economy will affect channel businesses, but according to Jola CEO Andrew Dickinson there is little to inhibit the firm's ability to achieve its goals over the next 12 months.
To understand what lies behind Dickinsons' optimism we asked the questions all channel CEOs will be pondering.
Dickinsons' optimism about channel growth continues to build, despite a dip in the economy – and he has good reason to be upbeat: As part of Wireless Logic (which acquired Jola last July), Jola is supported by what Dickinson describes as 'one of the largest and most innovative IoT/M2M companies in the world'. Furthermore, Jola increased revenues by 40 per cent and doubled EBITDA last year, an uptick that put the business on track for its best performance to date, according to Dickinson. "2022-23 will be our best year ever with revenues and EBITDA up significantly on 2021-22, due to a swelling of our partner base to over 1,300," he stated.
The company also continues to benefit from large inflows of sales from bigger MSPs and resellers winning significant orders. Even more potential resides within the tranche of resellers yet to get into mobile data. "Only around 30 per cent of resellers have a mobile data proposition and to compete effectively in the next few years they all must have one," added Dickinson.
He says that mobile data is the fastest growing telecoms sector and partners who win mobile data deals accrue important recurring revenues that increase the value of their business. "M&A activity shows that resellers embracing mobile data are on average 3x more valuable than others, with EBITDA multiples as high as 25x," explained Dickinson. "Furthermore, resellers without a mobile data proposition will not be in a position to help customers through the 2025 switch off."
Another source of growth, noted Dickinson, is innovation, which is especially driven by small and agile organisations such as Jola. Some of the decisions Dickinson is prioritising right now sit around innovation, which he says is key, especially for a business occupying Jola's place in the value chain. A big innovation trend to have emerged from Jola is automation, which is central to its modus operandi and the success of Dickinsons' leadership approach.
Resellers without a mobile data proposition will not be able to help customers through the 2025 switch off
"My job is to set a strategic direction for Jola with trickle down KPIs, and then ensure that we focus on, understand and correct any negative gaps," he stated. "In this context, our focus on process automation has allowed us to grow rapidly without adding to staff overheads. But due to an acceleration in new partner acquisitions we have two entry level account management positions to fill – that will be it for this year."
One of the big pressures of business growth is to maintain or improve quality during phases of expansion. But this is not a pressing concern for Dickinson who articulates a solid strategy. In contrast, he has observed other organisations fail to grasp the basics. "I see many companies abandon the basics of recruit, train and retain as soon as they start to enjoy success," said Dickinson. "Lazy recruitment in a growing company means you are always recruiting and re-recruiting. It also means you tend to meddle in peoples' jobs, so much so that the best people could become demotivated and leave when they see standards dropping."
Another pressure that is causing concern for CEOs is managing everyday challenges, which Dickinson overcomes through Jola's collaborative and agile approach, enabling it to react quickly without breaking processes. But the biggest challenge for resellers in recent years, says Dickinson, has been to wean sales people off capex sales and onto 'rule of 78' recurring margin commission schemes. "This makes it much easier to compare the relative value of new products and has made channel sales people more flexible," he commented.
"The channel has always thrived on technological change and flexibility is key to maximise the potential of compelling events like the 2025 PSTN switch off. There is an unprecedented opportunity for resellers to grow the value of their businesses. High monthly recurring revenue makes the channel more resilient to downswings and we have never been in a better position to win more and bigger orders from under the noses of the big telcos. The channel is in great shape."
Jola is also in fine fettle, and every employee benefits from achieving its EBITDA target. "One of our best decisions was giving all Jola people share options," said Dickinson. "And one of my best moments was telling everyone how much they were worth when we sold last year."