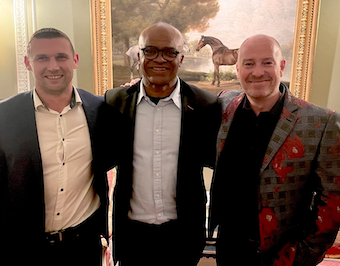 Weston Park in Shropshire, which houses some of the UK's most treasured and highly valued works of art, provided an inspirational backdrop for DWS to frame its first Business Growth Retreat last month.
DWS CEO Terry O'Brien is on a mission to help ambitious resellers gain the education and market knowledge they need to take their businesses to a higher level, and in the opulent Weston Park drawing room housing a Stubbs masterpiece (said to be worth £24 million) O'Brien explained his thinking behind taking selected partners away for some 'private' time with DWS, Giacom and Union Street teams in one of the UK's most treasured country homes.
"It's all about getting to understand our partners more, especially those that have growth ambitions," he commented. "We had something of a one-size-fits-all policy over the last decade and we do a good job of looking after partners, but we want to improve. So we spent time working out what types of partners we have and how we can better serve them. We've got some partners with good growth who are thinking about the next stage of development... do they acquire, sell or get investment? They've all got different needs and aspirations, and the idea behind the retreat was to share quality time with these partners to get to know them well and work out how we can help them through their next growth phase."
It's all about getting to understand our partners more, especially those that have growth ambitions
DWS began the process by targeting those partners likely to gain most from the retreat and arrived at 20 key candidates. "It was a significant investment from us in funding the event and from the partners in giving up two days of their time, so commitment was important," added O'Brien.
From a content perspective, DWS lined up a cornucopia of talks. Megabyte Chief Analyst Philip Carse covered the market landscape while Oliver Norman and Milan Vashi from corporate finance house Alantra highlighted the considerations when entering into an M&A transaction. Psychologist Jamil Qureshi, who worked with the European Ryder Cup team, provided pearls of wisdom on reaching high performance, and a motivational after dinner speech from Olympic athlete Kriss Akabusi rounded off day one.
On day two, vendor presentations from Andrew Wilson and Mike Greening from CityFibre, Jon Hope from Sophos and Apay Obang-Oyway from Microsoft explored the broadband, cybersecurity and cloud opportunities respectively. "We wanted to stimulate thought processes in partners by bringing in some market analysis, industry expertise and motivation that would get them thinking about their businesses and how they can grow," added O'Brien.
Mike Wardell, CCO of DWS, has previously delivered successful growth events in the cloud-only space and was pleased comms partners reacted well to the concept. "Partners I spoke to enjoyed time out to learn together and think about ways to evolve their businesses, where to place their bets on technologies and how to be ready at the appropriate time should they be looking to sell or acquire," he explained.
"Importantly, it's also given us a chance to understand what we're missing in terms of helping them. It made us realise the value of bringing together a focused group of partners and doing this type of event more regularly."
 
Windsor Telecom Product and Solutions Director Nick Shepperd welcomed the strategic focus delivered by the event. He commented: "There was excellent insight into DWS's strategies and valuable information on the comms market and M&A landscape, combined with useful engagement with other telecoms, MSP and IT leaders on the challenges and opportunities our industry faces."