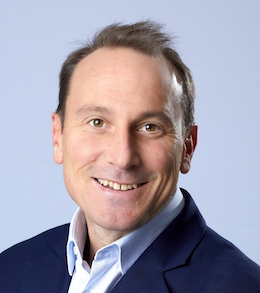 Gamma CFO Bill Castell provides insights into the transformations happening within the Gamma business and the leadership issues he is prioritising.
What was your route into the comms sector?
Having started to cover the TMT sector as an investment banker at Goldmans back in 2000, and then as an auditor at Deloitte, I have seen the many different waves of convergence across the market, and I am passionate about the sector. The most relevant previous experience was when I was Deputy CFO and then Acting CFO of Virgin Media prior to the JV with Telefonica's O2. I spent three years working for Virgin Media and the parent Liberty Global on both the B2C and B2B evolution including Project Lightning, the build out of Gigabit Britain and fixed mobile convergence which came to a head with the JV. Not forgetting Virgin's own B2B business.
Why did you take the CFO role at Gamma in May last year?
I have spent most of my career split between the TMT sector and financial services, with 12 years in operational and CFO roles at Barclays. I decided to leave Virgin Media to become CFO of the privately owned and PE backed OVO Energy which had just completed a reverse takeover of SSE's energy retail business. I enjoyed learning the energy sector and jumped in at the deep end with two feet during the energy crisis.
I was also in charge of all the hedging and pricing decisions which was interesting when energy prices went off the scale. I knew Gamma from my time at Virgin, a smaller competitor which was and still is held in high regard. When the Gamma opportunity arose, I enjoyed meeting the board and management, welcomed the chance to be a public listed CFO, and was also excited to get back into the world of communications. Gamma ticked all the boxes including the growth potential of the company in the UK and in Europe.
As CFO, what is your most important challenge over the next year?
Specifically, as a CFO, a constant challenge is capital allocation. As a gatekeeper you work alongside the CEO to ensure stewardship of capital, working through the investments that will deliver the optimum returns, considering all stakeholders and ultimately delivering on the strategy.
How can you personally impact the growth of the Gamma business?
One of the great things about Gamma is that the executive committee is full of people who have been part of Gamma's success since IPO. I would like to think I could help bring different perspectives from the various CFO and operations roles I've held both within this industry as well as across different industries. I am partly here to challenge the status quo, and to help lead and support Gamma as it continues its journey from a medium sized UK company to an expanding European organisation.
What are the three main challenges for a CFO in the future?
Talent: The secret of all successful businesses be it the past or the future is talent. Everyone is rightly excited by AI but for me the H in HI (Human Intelligence) is still the key. Retaining, developing and attracting the best talent for the company and ensuring technology evolves so that the 'H' can focus on the most value accretive work is key, which is often the most enjoyable part of their roles.
I am partly here to challenge the status quo, and to help lead and support Gamma on its journey from a medium sized UK company to an expanding European organisation
Adaptation: A generic challenge for all leaders is the accelerating pace of technology and therefore market change, and making sure as a leader you grab the opportunities this provides. Resilience to macro events and knock on effects is also a challenge. For example, the last few years with Covid, Brexit, world events in Ukraine and Israel-Gaza, and the energy crisis all combine with the need to assess the impact on the company and address challenges and in some instances, the opportunities that arise.
What's the key to improving finance and accounting processes?
Evolution not revolution, and hearts and minds... ensuring the finance team understand what you are trying to achieve and that they are fully engaged and part of the change. We are currently putting in a new HR and ERP system. The absolute key is to understand what the goals are up front, and investing the time in improving the data and processes before you launch so the opportunity is not wasted. An ERP system is an enabler – the quality and structure of your data and processes are what makes the real difference. AI is certainly the buzzword, but AI is nothing without HI.
To what extent does ESG reporting fall in your remit?
We have a dedicated ESG team who work across all of Gamma, across all regulations and across all of our activities and, as a leadership team, we have group wide and individual ESG objectives. As the procurement function is under my remit, I am fully engaged in ensuring our suppliers support us in our Scope 3 emission targets. We also work closely with the ESG team on our TCFD (Task Force on Climate-related Financial Disclosures) reporting requirements which will be in this year's annual report.
What trends are you seeing in the market that interest you most?
The rate of change as technology and communication converges and new technologies coming to the market. The obvious one is AI, but Covid also accelerated the use of technology across many industries, including comms. Some of these technologies we will adopt and use within finance. In respect to wider Gamma, it comes back to capital allocation, organic and inorganic, and working alongside the board and fellow executives to ensure Gamma, along with partners and suppliers, rides the technology waves fast emerging on the horizon – including the 2025 PSTN switch-off.
How do you balance competing priorities?
Balancing priorities is key in all roles as there will always be a scarcity of some sort that needs to be managed. The one that usually gets the most focus is funding, but often the scarce factors are time and resource. Balance is about having the right decision making framework so you can flow down from your key strategic priorities. On a personal note, I use a framework called the 5Fs which I created after an intense period working at Goldmans. It ensures I have balance across Family, Friends, Fitness (mental and physical), Freedom (financial and thought) and Fulfilment.
What are today's primary leadership priorities?
On a macro level I believe in responsible capitalism. There have been too many examples in the last 20 years of irresponsible capitalism. Having been in financial services through the financial crisis and in the energy sector during the recent energy crisis, I feel passionately on the subject. You could say that compassionate capitalism has never been more important. I am a NED on the Financial Ombudsman Service as well as the Whitgift Foundation which helps provide me with perspective.
What is your biggest career achievement?
The greatest career choice was going to Deloitte as I met my wife there. Biggest achievement, probably my first real large team leadership role when I became Managing Director at Barclays. I was relatively young at 32 and took on a role as MD of Operations for Barclays Western Europe and had 500 people in my team. It was a very steep learning curve.
In hindsight...
I would have been more patient and balanced. In my career and everyday job, I have always been in a rush and actually I have found being reflective and patient often results in a more balanced and better outcome.
If you could transform any area of the ICT industry what would it be?
There are structural issues in the world of infrastructure and overbuild from altnets. At Goldmans I remember the demise of Telewest and NTL and it looks like we have not learnt our lessons. Competition is a good thing but the level of overbuild must be inefficient for the country. On a wider point, regulation is a tough one but with social media and now AI I do think there is a need for more of a collective debate and some tough decisions to ensure our children are net beneficiaries of the future rather than some of the negative externalities I am seeing today.
Role model
Deanna Oppenheimer: One of my bosses at Barclays, who has had and continues to have an amazing career in financial services. Her style of leadership, customer centricity as well as her ability to get to the top of the career ladder in what was a male dominated industry is hugely impressive.
What talent do you wish you had?
The superpower of flight, but in the real world it would be a musical talent. I am amazed by my wife and children who play multi-instruments.
What do you fear the most?
I still have a fear of failure, but as I fail more and come out the other side this is getting easier.
 
Tell us something about yourself we don't know
I became a British Army Officer just after my 18th birthday. I played schoolboy rugby and football against Jonny Wilkinson and Frank Lampard. I was not on the winning sides!
What's the biggest risk you have taken?
From a corporate perspective it was some of the decisions made during the energy crisis. Fortunately, I got them right and, within acceptable risk appetites, we were long not short on commodity when prices spiked.
What motivates you the most?
Making a difference. I am an extrovert by nature, so am motivated by people and interaction, by challenges and by working as a team to improve things so as to leave a positive legacy.
Name three ideal dinner guests (past or present)
My paternal grandfather, I never met him and it would be great to hear his life stories; Winston Churchill, I am fascinated by history and politics; and Cleopatra to have a first-hand conversation about a different civilisation.
What are your main strengths and what could you work on?
I have an ability to get things done, lead the team into execution and action, look at numbers and spot the trends, make decisions, and I have broad experience. But I need to work on being patient, listen more and reflect.
If you weren't in IT what would you be doing?
Teaching. I am a school governor and passionate about history, politics, economics and geography. I recently gave a talk to 300 Year 11 female students at a high school in Manchester. I presented for 25 minutes and then answered questions for 40 minutes. The students' aspirations, energy and openness to the world was inspiring and made it the best workday I have had all year.
How do you relax when not working?
Time with my family. And I took up padel tennis two years ago. I must always have a challenge so just did my first Triathlon, and looking for the next thing.