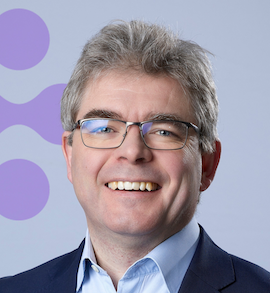 Gamma Chief Executive Andrew Belshaw is doubling down on securing European UCaaS leadership while building on the service provider's strong position in the UK comms sector.
Among his top priorities is the imperative to transform product stacks while becoming super-responsive to the opportunities presented by the fast-moving end user and channel market.
As CFO, Belshaw took Gamma through its IPO in 2014 and played a key role in the firm's subsequent growth. Now CEO, a role he assumed last November (following a stint as interim CEO after former chief exec Andrew Taylor exited) Belshaw is confident that his plans will keep Gamma on track as it seeks to become an international UCaaS powerhouse. "I know where Gamma's going," he stated. "I'm excited about our direction. And I have much more to add to the future success of the company."
His ambition includes Gamma becoming Western Europe's leading UCaaS provider which of course hinges on certain pre-conditions being met. "We want to take our experience and expertise from the UK across Europe and we need to continue developing and evolving our product," he added. "UCaaS by its nature is a continually evolving term, it means different things to different people and will continue to grow. So we will create new features and functions, even adding new ways of communicating. We want to do that across Western Europe and need to get the balance right between growing in Europe but maintaining our focus on the UK."
Striking a broader portfolio balance is also a priority and Belshaw noted that Gamma will be revamping its entire product and service offering. "We want to evolve our whole portfolio," he stated. "Some of this will be improving what we offer today while other aspects are more exciting, taking us into the IoT which we already offer in Germany – this will strengthen our mobile proposition. We are also looking at cyber security and expanding our relationships with tech giants such as Microsoft and Amazon."
Innovation
Gamma is a financially secure company and has the means to invest significantly in R&D; and Belshaw believes that Gamma's flexibility will enable it to deliver new innovations to the channel quickly – faster than larger more bureaucratic organisations. But he acknowledged that Gamma's performance on this key parameter requires improvement. "I'm being transparent: We haven't done as well as we could have on this over the last couple of years but that's being addressed," he confirmed.
"We'll do this by listening to the channel and making sure we're delivering on a timely basis. We'll be talking to partners, talking to end users, understanding what they want and need and understanding where the market is going. My biggest priority is to enable my team to ensure those products we build are exactly what the market we're targeting and our channel partners who are selling them need. We're creative and will continue to innovate."
I know where Gamma's going. I'm excited about our direction. And I have much more to add to the future success of the company
The new product pipeline has already cranked up to meet what Belshaw says is a big opportunity in the UK SME space where cloud PBX penetration remains well below 50 per cent. "We've got a product portfolio coming through including PhoneLine+, CircleLoop and our partner specific solution, Simple Swap, a tool that enables partners to switch their SME base over to the new digital or cloud-based phone lines as part of the PSTN switch-off," explained Belshaw. "The switch-off presents a huge opportunity to start winning wholesale line rental bases from the current incumbents.
"Then there are cross-selling opportunities for the other cloud products that we provide. These include Horizon Contact, our customer contact management system for small and medium sized businesses, which I see as a growth area both for us and our channel partners because the margin can be higher than traditional telco products.
"Furthermore, the rise of digital means that areas where the channel can add value in the past have changed. They are becoming more automated and you need to look for problems that aren't perhaps as trivial and straight forward. Adding value is no longer as easy as provisioning or tapping into a portal. It's about truly adding value and continuing to innovate for customers."
Belshaw observed that the channel market is in an 'exciting phase' not just because of technological innovation, but also due to the increasing levels of M&A turning a number of Gamma's channel partners into significant players, with some branching out into Europe. "By making sure our products are available and compliant in other territories we are supporting partners to drive the international expansion of their organisations," said Belshaw.
Gamma recently acquired multiple businesses across Europe in markets that have promising growth potential. "We found good businesses that looked and acted like Gamma did in the UK a few years ago," said Belshaw. "With our experience we can support our European teams on their own growth trajectory. Most of our European business is through channel partners and dealers, so it's great to bring our portfolio of products to partners in these territories along with our partner programme."
Scaling up
Gamma's enterprise business is also growing and presents a further opportunity for larger channel partners that target the top end of the market and the public sector. "We are expanding our product portfolio to scale and keep abreast of the biggest challenges enterprise organisations face," commented Belshaw. "But despite Gamma having grown into a big and established European business we still believe in, are supportive of and invest in the channel. SME will always be Gamma's heritage and expertise."
Belshaw puts an equally strong emphasis on his appointment as CEO being another positive message for channel partners, a point that is solidly underpinned by his heritage with the firm. "My first job at Gamma was Finance Director of the channel business," he said. "I've been part of the management team for the last 16 years, part of the board for the last eight years, I've grown up in Gamma, I've grown up with the channel and my appointment underlines our commitment to UK partners."              
Just a minute with Andrew Belshaw...
What talent do you wish you had?
To play a musical instrument. My talented daughter has been giving me clarinet lessons, but they're not going well.
What do you fear most?
I worry about the way politics is going, globally. Politicians seem unable to focus on the key issues and are distracted by the need for short-term popularity.
If you weren't in ICT what would you be doing?
When I was younger I always wanted to be a pilot.  
Name three ideal dinner guests:
Nelson Mandela, my grandad who passed away many years ago (I miss his wisdom), and Tom Hanks.
The best advice you have been given:
Make sure you look after your people. All leaders should have that at the forefront of their mind.
Industry bugbear:
The landscape has become extremely complicated. We as an industry have an opportunity to help the right people make buying decisions more easily.
The biggest risk you have taken?
Working for Gamma 16 years ago. At the time there were only 100 or so employees and a few friends did question my choice. It turned out great.
How do you relax when not working?
I get on my exercise bike and watch films while I'm cycling. That's not everyone's idea of relaxing but it helps me unwind while fitting in exercise.
Top tip for resellers:
In a changing world with evolving technology, make sure that you're always working out how you're adding value to your customers. Any company that is adding value will be successful. There will always be a place for them in the market.