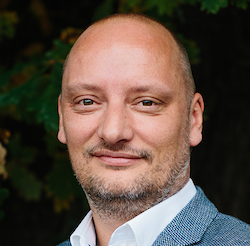 Castle Donington-based comms and IT provider One Connectivity marked its tenth year in business with the opening of a new office in Sheffield. We caught up with Managing Director Paul Stevenson to find out more about his strategic thinking and what makes him tick.
What got you into the comms and IT sector?
I fell into ICT unexpectedly. I'm a qualified Management Accountant by trade and around 15 years ago was made redundant due to the company relocating. A close friend offered me a sales role while I was looking for work and I never looked back. My finance background helped in the early days to make sure the books balanced, and we didn't over commit ourselves. It's also helped build our accounts team and I still like to help produce the accounts.
What market trends interest you most?
Customers used to choose their telecoms partner and managed IT partner separately. In today's market, services are becoming integrated and provided by one supplier.
My wife Carmen and I set the business up 10 years ago and it was a stressful time. Over the years we have learnt how to best support each other
What are your immediate priorities?
We recently opened an office in Sheffield and recruiting is our top priority, which is certainly tougher that it has been in the past. We've always prided ourselves in having great staff with longevity and we need to continue this.
 
What have been the main milestones for the business since inception?
One Connectivity started out predominantly as a mobile reseller. We added phone systems into our portfolio in 2018 which was a key milestone and decided to partner with Pragma to sell the LG Ericsson solutions. This year will see another key milestone as we add IT into our portfolio.
 
Name one thing you couldn't do without in your job
Excel, from my days as an accountant.
What is your growth trajectory?
One Connectivity has grown organically over the last 10 years, starting with four members of staff. We now have 30 employees across two sites.
  
Which new technology areas are on your radar screen?
AI is at the forefront of everyone's mind and how it can be built into processes and service models. Technology has come a long way in the last 10 years and we need to make sure we are ahead of the game.
Looking back across your career, what is your biggest achievement?
Striking the right home and work life balance. My wife Carmen and I set the business up 10 years ago and it was a stressful time. Over the years we have learnt how to best support each other and also try to switch off from work during evenings and weekends, and just enjoy family time with the kids.
What would you have done differently with the benefit of hindsight?
I've made mistakes – big ones! But you learn from these and hopefully make better decisions moving forward.
What talent do you wish you had?
To sing!
 
What do you fear the most?
What the future will be like for the next generation.
Who inspires you most?
I don't have one role model. If I like what someone says or does in life, I tend to remember that one thing from a variety of people.
Tell us something about yourself we don't know
I don't like chips or cake!
 
What are you biggest strengths, and what could you work on?
Listening and being open to ideas is one of my strengths. I also try to see the good in people, which can be a strength and a weakness.
 
Best piece of advice you have been given
Make yourself a priority once in a while. It's not selfish, it's necessary.
Top tip for resellers
Find good partners and never take on a project without knowing you can deliver it.