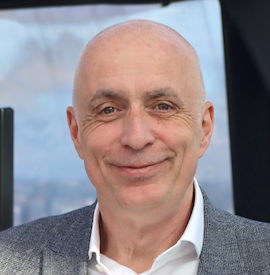 Fitness for purpose should be an unnegotiable customer requirement of resellers and service providers, and Enreach's Head of International Carrier Sales Iain Sinnott is robust in supporting the critical balance between customer demands and the right technology fit.
No channel organisation can be regarded as immune from the pressures of market changes. And the only way forward for resellers is out of their traditional comfort zones, according to Sinnott. "The world has changed, and the industry needs to change too," he stated. "We need to rethink pre-pandemic models and look at how we can collectively thrive going forward. We must work together to deliver the right technology to end user customers and have a more results-focused approach that will ensure higher ARPU and lower churn – all challenges that existing players know too much about."
For Sinnott, unfitness for purpose is glaring in many instances. "We need to get away from silos, over-focusing on voice and even over-fixating on meeting tools – the multiple forms of contact we all use today," he added. "We need to be focused on the people and the processes within the end client to deliver better productivity and great customer and colleague experiences."
In taking control of these requirements channel organisations can become a model for the rest of the sector. In this context, says Sinnott, his prior roles stand him in good stead in his new role. "My experience is helpful in seeing beyond the technology and into the end customers' desired outcomes," he said. "The focus needs to be on what customers need and will use, solving real-world problems, not just selling technology."
Sinnott has a long history within the UK reseller market, spanning over three decades supporting general and vertical sales strategies in the IP and mobile sectors. He spent the last nine years promoting and selling cloud service management platforms. "I have a realistic understanding of the operational and support challenges that go hand-in-hand with the delivery of even the best constructed UC&C propositions," he said. "When I first looked at the Enreach portfolio I was impressed by the simplicity of how its propositions are constructed, providing a balance between choice and practical consumption, meaning partners can customise to match the operational nature of their target markets."
We need to be focused on the people and the processes within the end client to deliver better productivity and great customer and colleague experiences
Sinnott is now responsible for finding carriers and service providers across Northern Europe to partner with and bring technology benefits to businesses of all sizes. "It's a big job but a brilliant opportunity, and my first task is to listen to these players and understand where they see the opportunity and the challenges," he added. "The spirit of what we are doing is best summed up by the group's vision of bringing together communications, productivity and network solutions into one seamless environment, including CRMs, ERPs and contact centre features and marketing automation.
"This overcomes a world of multiple but siloed types of contact with inconsistent connectivity and user experiences, and mobile is isolated. It also gives users better control over their availability, how they manage their business lives and their personal identities – physical and digital barriers disappear."
Customer experience tools are a primary focus for 2022/3 and Sinnott believes that delivering these tools effectively to the SMB market is a space in which resellers can increase revenues and decrease future churn. "There is a convenient rhetoric circulating that the smaller the business the less the advantage delivered by things like call queues, call-back queues and web chat," he stated. "That is untrue – what it actually recognises is that it is hard to deliver and support those tools economically. Here is a space in which Enreach can help channel players win. We provide multiple contact centre style features as standard, bringing the 'casual contact' centre within reach of any size organisation."
Sinnott says the emergence of the micro market as an eCommerce opportunity will be of great interest to those who can construct packages, provision and support them with minimal human interaction. And according to Sinnott, Enreach will be a strong player in all three tiers of supply – platform, SaaS wholesale and direct to enterprise. "With white label and bespoke package creation there is no channel conflict," he added. "Indeed, the lessons from direct and indirect across many international markets will ensure that innovation is driven by customer need and process change requirements from the real world, rather than from a hypothetical one."
Breaking this down into examples of what that means in practice to the channel, Enreach's contact solutions cascade into multiple opportunities. "Mobile-first is a major emphasis for us," noted Sinnott. "The core device in our personal lives is the mobile, so let's turn the mobile into the device and control portal of choice for business communications systems. Mobile devices can become the launchpad for fully integrated voice, collaboration, meeting, customer experience and much more. The delivery of effective CX tools to the SMB sector, especially for those operating in the B2C world, will create the value that allows reseller ARPU to rise. Plus, the way we have integrated the 'casual contact centre' into the core soft clients makes that a simple 'persona' based package structure."
Becoming the trusted advisor for the new world of comms and integrated technologies – with silo-less contact solutions at the heart – is resellers' biggest opportunity, believes Sinnott. "There has been a massive shift from voice first to the triple focus of voice, meeting and collaboration, and the CX," he added. "The crossover with IT is obvious so players from both sides must re-align to be advocates of the best blend of services."
We are clearly at a turning point – and the danger comes from being unresponsive to the demands of the new market. "The destiny of resellers and SIs is very much in their hands, but they need to act today," added Sinnott. "Their value lies in being trusted advisors, so it worries me that so many want to over-simplify the proposition and focus just on core PBX replacement packages. The sales process, when done well, allows a reseller to investigate the working practices of their customers and bring in the smartest technology tools to deliver productivity benefits and the greatest ROI.
"So resellers need to invest in sales craft and cement their importance to the customer. We need to talk in human terms that engage business clients, dropping the industry's use of 'X'aaS which the real world doesn't truly get. Our task is to deliver a converged contact experience, achieved through a blend of some spectacular technology options. If you commoditise your product you may be painting yourself out of the picture, and be unfit for purpose."
Just a minute with Iain Sinnott...
Role model:
Sir Ken Robinson: He saw the world as it is and looked to design education to achieve the highest results for every individual.
Your biggest fear?
Losing my enthusiasm for the work I do. However, I don't think there is much chance of this happening any time soon.
Best advice you have been given?
Don't apply for an advertised job. Approach the organisation you want to work for and help design the best role to exploit your skills.
What talent do you wish you had:
To sing in tune.
Tell us something about yourself we don't know:
I am dyslexic but thankful for the compensatory skills it forced me to evolve, and the empathy for difference that it installed in me. I consider it to be a major net benefit.
Name one thing you could not do without in your job:
Time to think the challenges through. If many of us aimed to achieve 20 per cent less our results would be 50 per cent better.
One example of something you have overcome:
My inferiority complex which was based on my academic results, caused mainly by then undiagnosed dyslexia.
Three ideal dinner guests:
Sir Nicholas Winton, the organiser-in-chief of the wartime kinder trains and the most heroic yet modest man I have come across. Sir Ludwig Guttmann, creator of the Para Olympics who broke down prejudice against physical difference. And Nelson Mandela because he stuck to his principles and did the right thing even when it was the hard thing.
What possession could you not live without?
My jetboil.
Top tip for resellers:
Plan change, invest in learning and partner with suppliers that are excited by your ambition and committed to supporting it.