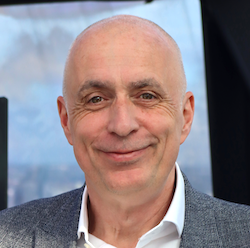 A more agile and holistic sales approach will be key to success in the evolving UCaaS arena, writes Iain Sinnott, Head of International Carrier Sales, Enreach for Service Providers.
Understanding the future evolution of UCaaS means knowing about the starting point. Most service providers began by offering UCaaS to replace traditional PBX services. With virtual meetings now a default, more recently, there have been discussions around adding the CX and more mobility to UCaaS, but it is early days for many service providers and just the tip of the iceberg.
However, as we look at 2024, a lot more of that UCaaS iceberg is going to become apparent, including non-voice and AI tools. What needs to stay top of mind is that there is also now a more mature customer expectation. They are increasingly looking for complete technology solutions from a single source, all integrated, which, after all, is the ultimate definition of UC. So, resellers who cannot provide a broader UCaaS solution, including the full range of ICT, will see margin squeezed based on what they cannot deliver. While voice-only is a falling revenue stream, the evolution of UCaaS is a springboard to new revenue sources.
While voice-only is a falling revenue stream, the evolution of UCaaS is a springboard to new revenue sources
The B2B comms sector needs to create its own equivalent to the consumer market's quad play. After all, if a UC provider has IT competencies, then it does not need to defend itself against an IT player. And if IT is the most uncomplicated door to push, do that and bring the comms in behind, just like a TV provider does with domestic broadband.
While there are many service providers yet to embrace the UCaaS imperative, there are also some pioneers who have gone far beyond just selling cloud-based voice services, adding multiple disciplines into their portfolios. Some have bought IT companies, whether to build up their own internal skills or to support sales. Others are forming strategic partnerships.
Beyond IT, two trends that are already happening will be even more prevalent in the next couple of years. For instance, giving SMBs access to contact centre-style features from within their UCaaS solutions can make a major difference to the end customer experience. For a small business with a small team, all of whom have to be customer-facing at some point, casual contact centre features can help process enquiries more rapidly while giving their customers a better service.
Mobile-first
Another huge opportunity is to help mobilise businesses. For years, the Nordic countries have been the gold standard for mobile-first, yet it was slow to take off in the rest of the region. That has all changed, and more resellers and service providers are waking up to this largely untapped opportunity, partly driven by the work anywhere culture, but also that, irrespective of location, mobiles are becoming the de-facto device of choice at work.
Mobilising businesses is rapidly becoming a non-negotiable requirement, and UCaaS is the ideal central pivot. Phasing out the desktop phone in favour of a mobile client, a PC client, a webRTC client or an integrated SIM card creates the ultimate flexibility. Then, business process and personal choice become active factors in how businesses, teams, and individuals optimise their working day.
A key component to achieving all this added value is using APIs, a gateway to differentiation. APIs can help unlock the door to seamless integrations between UC and contact centre services, CRMs and productivity tools. Selling those higher ROI solutions is a huge opportunity. Again, APIs have been around for years, but what is changing is their more widespread availability and easier deployment. Expect to see far more conversations around APIs in 2024, with more options for service providers to augment their UCaaS offerings with additional apps to create added value for customers.
Also, recent innovations in API technology layers make it far easier for competitive offerings to be present in the same UCaaS portfolio, giving resellers and their customers more choice, playing to another aspect of the market's evolution... more organisations are realising that they need to 'play nice' and, if not collaborate, at least acknowledge that they need to co-exist.
Automation
As well as enabling extra revenue, APIs can help reduce internal costs by automating much of the human element within onboarding and account management. Another trend is intelligent, user-friendly portals covering every aspect of customer provisioning, training and adoption, to deliver UCaaS on a much larger scale. Looking into the future, those portals will ideally provide ongoing management, such as metrics around whether people actually use certain services.
All these developments will help resellers arm themselves against ever increasing competition in the UC market, especially from the hyperscalers. Sure, it is an increasingly demanding environment, but there are still many under-exploited opportunities within UCaaS.
So, when we are talking about the future of UCaaS, it should not be about just the evolution of the technology evolution, it is as much about how it is understood, sold, used and maintained within the context of a much broader technology picture, driven by the needs of customers and the expectations of their customers. While that is going to require some focus and effort, if the variety of research studies about UCaaS growth are right, the potential gains are huge.