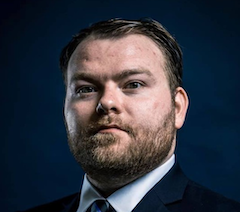 The focus on diversity and inclusion is becoming more widespread across the channel and prime movers continue to create initiatives that advance their D&I programmes.
Here, Johnathan Zemlik, Co-Chair of Wavenet's LGBTQ* Employee and Allies Group and Member of the company's Great Place to Work Group, discusses the motivations and strategies that led Wavenet towards creating and maturing its fast developing D&I programme.
As a volunteer for an HIV/AIDS support prevention charity in Yorkshire, Zemlik supported the digitisation of service provision. This gave him insight into the service users' experience and contact centre operation which propelled him towards a career in CX technology at Wavenet. He since supported the company's evolving diversity and inclusion strategy as part of the Great Place to Work Group (a committee of proactive and enthusiastic individuals from across the Wavenet Group).
Wavenet recently completed what is often the most difficult part of the diversity and inclusion journey – the initial stage from planning into deployment, bringing to life the Great Place to Work Group which created Wavenet's LGBTQ* Employees and Allies Group (an internal Microsoft Teams group) launched during Pride Month.
"Wavenet is keen to support LGBTQ* colleagues by providing a safe space for LGBT employees and Allies to feel they can authentically express themselves at work and ensure they can be at their best," stated Zemlik. "It allows them to connect with colleagues who understand the challenges they face and find role models to show them that it's empowering to be out at work. This helps to enhance colleagues' wellbeing, enhance innovation and builds a foundation on which we will retain and attract the best talent in the industry. This in turn helps Wavenet retain a competitive advantage."
Zemlik emphasised that a focus on diversity and inclusion is central to finding candidates with different perspectives, pointing out that companies that actively signpost their support for LGBTQ*, gender diversity, BAME, neuro-diverse and disability inclusion will be more agile, more empathetic and able to stay on the leading edge of technology. This is especially reflective of younger employees who now expect proactive diversity and inclusion within the workplace.
There are many opportunities for businesses that embrace diversity and inclusion. For a technology firm like Wavenet it's disruptive thinking
"There are many opportunities for businesses that embrace diversity and inclusion," commented Zemlik. "For a technology firm like Wavenet it's disruptive thinking. This is central in identifying and adopting the next generation of disruptive technologies; and provides companies with a strategic advantage based on the ability to think differently with diverse perspectives.
"This delivers benefits through all parts of the business from sales, marketing, operations and support as it empowers staff to be their authentic selves and deliver the best they can do. Some of our most diverse staff are also the most talented and make excellent role models for new people entering the company. Sharing their stories internally and nominating them for awards where possible would be a great step forward."
The biggest stumbling block was working out how to take those first steps, noted Zemlik. But the pandemic made that easier. "As we were all working from home in lockdown it made us shift our thinking to a digital-first strategy for diversity and inclusion," said Zemlik. "A Teams group was the ideal place to start. The question was, how to make that group meaningful and relevant. The internal wiki contains links to national and local resources, so regardless of where our colleagues are based they are signposted to accessible and relevant LGBTQ* resources to help feel part of their community both in and outside the business. These include everything from Stonewall and the Terrance Higgins Trust to local Pride and Sports Groups. We are also working to launch a series of monthly meet-ups as the lockdown eases.
"Entering diversity and inclusion schemes like the Stonewall UK Workplace Equality Index is also an ambition. However, for now we're focusing on empowering our staff, understanding their needs and undertaking the basics to ensure the stakeholders within our business have the maximum amount of input and control over the direction of our diversity and inclusion policies. We're hoping to empower staff from other groups across the business to copy the model of the LGBTQ* Employee and Allies Group and build other groups such as Women in Tech, Wavenet BAME and groups to support staff with disabilities.
"Furthermore, we have sponsored the Yorkshire based Leeds Hunters RUFC to enhance opportunities for LGBTQ* people to get involved with sport. Wavenet will become a gold sponsor for the 2021-22 season. Our support will not only focus on sport but also enable the Hunters' regular focus sessions on subjects such as health and wellbeing, mental health, hate crime, substance abuse and Trans* rights."
In terms of dealing with existing bias, Zemlik says it's all about encouraging self-awareness. "When I was volunteering after university we were always taught to be allies, not adversaries," he stated. "You will get dissenting points of view sometimes but it's important to listen to them with as much empathy and understanding as possible. When you do this you can often discuss concerns and critiques openly and honestly which is central in changing hearts and minds. However, the only thing that surprised me was the number of positive remarks and support we've had."
Diversity and inclusion are all about empowering the workforce, and it starts with involving them in the process and understanding the small easy things that can help you take the first steps
Collecting the necessary data to underpin a strategy can be a barrier to diversity and inclusion, but Wavenet captures its data in two ways as part of its wider focus on employee empowerment and wellbeing. The company showcases its diversity and inclusion strategy on induction to make new starters more comfortable about sharing information; and at yearly or bi-yearly intervals it carries out a wider colleague wellbeing survey.
"This helps those who may not be able to engage," added Zemlik. "Surveys should be anonymous to account for those who may want to express their sexuality, gender identity, neurodiversity, or disability openly."
 
These approaches to advancing Wavenet's D&I programme enable it to account for those who are confident to self-identify as well as those who aren't ready to be open with their colleagues. "This needs to be interconnected to a wider focus on employee health and wellbeing, with positive actions off the back of data documented followed up," commented Zemlik. "This gives surveys credibility and leads to a virtuous circle of improvement. It also allows businesses to pick up on issues before they start to affect the workforce and risk losing their best talent."
According to Zemlik it's best to start bottom-up rather than top-down. "Some people are under the impression you need an extensive plan and a large budget to do diversity and inclusion properly," he commented. "And there is a view that diversity and inclusion needs to come from the C-Level down.
"However, I feel that is the wrong approach. Diversity and inclusion are all about empowering the workforce and that starts with involving them in the process and understanding the small easy things that can help you take the first steps. Empower and showcase diversity and inclusion champions across the business. They will be central in pushing forward the diversity and inclusion strategy."
 
Wavenet's Great Place to Work Forum provides this platform, bringing together a diverse group of people from across its UK offices. "This group isn't a talking shop, it allows us to put forward initiatives such as the LGBTQ* Employee and Allies Group which can then be shaped and put into action," added Zemlik. "By focusing on the initial small and easy steps you can create a wider platform for future success."   
Zemlik's six ways to create a D&I strategy...
1. Listen to your employees: Conduct anonymous feedback surveys and create action points.
2. Place the community at the heart of the strategy: Diversity and inclusion are best done from the ground up with maximum input from the communities it seeks to empower.
3. Create a plan but don't dwell on it: The hardest part of any D&I plan is the starting point. Create a list of everything you want to achieve then prioritise the steps that are easiest to take.
4. Set a deadline: Too many initiatives never get past planning for want of a perfect business case.
5. Start small and be agile: Once the initial steps are approved – get stuck in.
6. Innovate: From those first steps and successes you can demonstrate the effectiveness of your initiatives. This will build a platform for larger tasks such as reviewing your company's existing policies and taking direct action within the community.