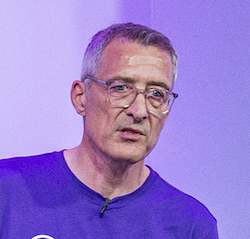 The merger of BT's Global and Enterprise divisions into a single B2B unit called BT Business raised questions about the potential impact of the merger on BT Wholesale. Here, Channel Partners Director Gavin Jones discusses the move and his wider strategy.
BT hopes the merger will drive gross annualised cost savings of at least £100 million by the end of FY25 through consolidation and rationalisation of management teams, support functions, product portfolios and systems, so we began by asking...
How will the unification impact BT Wholesale?
There will be little to no impact. BT Wholesale has operated as part of the enterprise division for several years so there is little change. We currently have separate IT systems so information isn't shared and confidentiality will be maintained after the integration. They are completely discrete systems.
Who will fly the flag for BT Wholesale in the boardroom now CEO Rob Shuter has left?
Bas Burger, our new CEO. He is experienced in wholesale having led the Global Services arm for several years, which has indirect partners and global wholesale as part of it too. We have someone who has global experience running a wholesale indirect partner channel and who will help BT Wholesale to continue to grow.
To what extent is portfolio rationalisation planned in Wholesale? And will investment in innovation be impacted?
Portfolio rationalisation isn't planned and innovation isn't impacted. It's simply about not duplicating efforts at times. Rather, it's about having a common investment strategy that caters to the needs of each channel. We must be smarter about investment, like creating single product stacks that we can invest more in to enhance their capabilities and provide more flexibility to partners.
What were your primary focus areas and strategic goals in the last year and did you meet them?
It was important that we achieved the overall financial objectives that we articulated to the market. We did this by focusing on the switch to all-IP, the move towards FTTP and the ramping up of the 5G roll out across the country. Smoothing the transition to all-IP is dependent on us providing alternatives to legacy platforms. One of them is enabling access to greater FTTP provision.
We also announced that – for the first time – our partners could offer EE sims to their customers on a direct, wholesale basis. The EE network had 150 new 5G locations added at the end of 2022. Our objectives this year are to remain focused on the retirement of legacy platforms and the move towards all-IP.
What challenges do you expect to face in the short-term?
As with all businesses we are facing an element of uncertainty due to the economic climate. With inflation remaining high and the threat of a global recession we need to be prepared for rising costs and continuing supply chain issues. We are also putting plans in place to ensure BT Wholesale communicates clearly any price increases or supply chain issues with partners. The skills shortage and the retention of skilled personnel is another challenge. We're looking at our own processes to see how we can address the gaps through training and retention.
How can you, personally, best influence the growth of partner businesses?
By going out and meeting our customers. This gives us a chance to understand their concerns first-hand and to improve our offering by adding solutions that they need, as well as giving us the chance to test new products to understand how they work for resellers and end users.
How will you continue to evolve your portfolio?
Ensuring superfast reliable connectivity will always be the bedrock, but then you can layer on new propositions that improve customer stickiness and performance. Cyber security, for example, is a service that is critical to businesses but probably isn't something you necessarily associate with BT Wholesale, but it's very much something we can work with partners on to keep their customers safe. IoT and other innovations will play a more prominent role too. We'll also develop new APIs across our portfolio that enable partners to connect with our systems, simplifying interactions and providing greater automation.
How far do resellers need to reinvent their businesses in changing times?
As end user needs continue to change, channel partners know that it is not enough to just maintain portfolios. They need to be forward thinking. If they aren't they risk losing their customers to more progressive competitors. Fortunately, a high proportion of our partners are changing and innovating. It's exciting to see the constant evolution within the industry, there is so much potential."
What trends are you seeing in the market that interest you most?
The market for collaboration tools has continued to grow rapidly and we need to make sure our partners are capitalising on this. After a few years of remote and hybrid working businesses consider seamless collaboration and connectivity as critical foundations of a long-term future.
There is also, as mentioned, a greater need for robust security solutions as employees need consistent access to sensitive company data in their homes on their own Wi-Fi network rather than a business grade connection. Partners and their customers must conduct a full security audit of existing infrastructure to recognise any weaknesses. We're also seeing businesses start to understand the value of IoT. As soon as you have strong and reliable connectivity in place you can layer on new services that many considered out of reach a few years ago. The IoT has the ability to enhance business operations and make brands more agile.
Cloud communications, alongside UC and collaboration tools, are also a key trend. Boosted by the move to hybrid working and an increase in the demand for collaboration solutions, as well as the PSTN switch-off, the cloud and the flexibility, scalability and capabilities it enables has never been more crucial.
What message does Openreach's postponement of the Salisbury and Mildenhall PSTN shut downs send to the channel?
Full fibre adoption is a metric by which all operators are measured and our results show increasing penetration quarter-on-quarter. From a wholesale perspective we have seen tremendous change in the overall mix of fibre orders placed in the last 12 months.
Give two examples of how BT Group is driving positive change
Sustainability is a key consideration and we're investing to ensure we achieve BT's Net Zero goals. We've pledged to become a Net Zero business by the end of March 2031 which can be achieved by converting our fleet of BT vehicles to electric or zero emissions by 2030. We've also reduced carbon emissions intensity by 55 per cent and reduced supply chain emissions by 28 per cent since 2016/2017. There is still a great deal of work to be done and this can only be achieved through greater collaboration within the channel.
Our mentoring programme is also helping to drive positive change. It's a great initiative for people of all genders and backgrounds to have a chance at learning from senior leaders, including our MD Alex Tempest. That learning goes back the other way too, meaning our leaders hear fresh ideas and perspectives which is vital for driving change and new opportunities for employees and the company. Success hinges on a common purpose, something that everyone is excited about and driven to achieve.