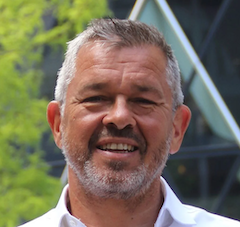 Babble CEO Matt Parker has outlined plans to ramp up the growth drivers that have delivered so well for the business in 2021.
"As we make more progress we become more ambitious," he stated. As we've acquired more businesses and added to the scale of the organisation we've been able to build on our four product pillars - UCaaS, contact centre, cyber and mobile – and having experts in these fields helped us excel our organic growth strategy, with bookings 90 per cent ahead of 2020. A priority for 2022 will be to continue the success of our buy-and-build and organic growth."
Parker has also strengthened his commitment on a new strategic approach taken in 2021. "Many mid-market businesses prefer to work with people locally, so our new strategy is focused on being a national player with regional hubs serving customers through local people," he explained. "Hitting the ground running by continuing our buy-and-build success, while delivering on our new strategic approach will ensure we remain on track to hit our revenue targets."
It's no secret that following the Covid-19 lockdowns flexible and hybrid working is the new norm, so companies need to invest in digital technology to attract and retain the right talent. "Tools and solutions that allow for collaboration, innovation and flexibility will be the most sought after," added Parker. "We're going through a defining era for the industry. Those businesses that fail to adapt to suit their rapidly evolving customers' needs will struggle to survive. In this game you can never afford to remain static. That's true now more than ever before."
The rising number of cyber attacks is a growing concern for the industry and makes Parker's warning against sitting on one's hands all the more stark. "News stories of major hacks are becoming increasingly common, and security concerns will continue to be high on the agenda in 2022," he added. "Maintaining a competitive edge is another area that businesses have had to contend with as a result Covid-19. As we move into the new year these issues will continue to be a major focal point."
Opportunity also knocks for resellers who embrace hybrid as the future, believes Parker, who made his point with another warning for stuck-in-the-mud resellers. "Through our hybrid model we have seen a happier, more efficient workforce, and businesses that are stuck in the past will simply not survive," he stated. 
"The fact is that the majority of office-based jobs can be done anytime, from anywhere in the world, thanks to the benefits of cloud technology. While the pandemic has certainly sped this process along, the end model of having greater flexibility in the workplace for many sectors was inevitable and the comms industry will be in a stronger position post-pandemic."
 
The pandemic forced businesses to scramble and get their staff set up to work from home overnight. It's hard to imagine a better scenario to show customers the importance of being agile. "Those fast to act and empower their employees to drive results from anywhere were the winners in the race, while those slower to do so missed opportunities," commented Parker. "It's now vital for the comms channel to ensure customers are adopting the very best technology that's tailored to meet their needs, while also keeping ahead of the increase in cybersecurity risks.
 
"Resellers should constantly be assessing and evolving their outlooks, strategies and portfolios. This is essential for ensuring they're ready to adapt quickly and assert the competitive edge that the pandemic has blunted. 2025 isn't that far away and businesses must act now to ensure long-term growth. The comms industry is in a period of rapid growth. It's an incredibly exciting place to be."