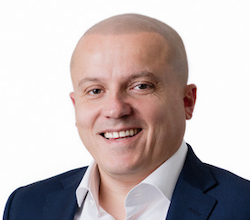 Zoom's Head of EMEA Channel Dion Smith is a master channel builder, and spurred by the pandemic-driven seismic shift to hybrid working he's planning for an upsurge in partner-led revenue growth.
Smith joined Zoom in January this year, moving from AWS where he was Head of Strategic Partnerships. His appointment marks a new phase in a career that began in the early 90s when Smith worked for Hewlett-Packard, where one particular interaction made a lasting impression. "I was fortunate enough to meet Bill Hewlett and Dave Packard at a town hall, and this moment has stayed with me as one of the most significant conversations in my career," stated Smith. "It taught me that change is good, transformation is key, and you have to love your customers. Since then I have forged a 25 year career working and building channel ecosystems globally for some of the world's largest blue chip companies, operating with and contributing to some of the best cultures out there in the industry.
"I'm a builder at heart, so have always been passionate about bringing the right people together to support client goals and outcomes. One of the most rewarding aspects of my job is working with partners to open up new routes to markets, regions and countries – which is a key part of Zoom's channel strategy."
Because Smith has spent a career building channels, when the opportunity arose to create a successful partner ecosystem at Zoom he 'jumped at the chance'. "Being a Zoom user myself and having sold Zoom in the past I was aware of its journey and the maturity of the platform," he said. "When I met several of its executives and learned more about Zoom's culture and its aspirations to mature the channels across all industries in EMEA, I realised it was the perfect fit for me."
I'm a builder at heart, so I have always been passionate about bringing the right people together to support client goals and outcomes
Zoom was established in San Francisco in 2011 by Eric Yuan, CEO, who wanted to create the world's first video-led UCaaS offering. The business has grown to over 6,000 employees, it has a global footprint and a valuation of more than $35 billion. As we all know, the Covid-19 pandemic made Zoom a household name overnight. "This was a huge turning point for the company and meant a great deal of time was invested in ensuring the platform was prepared to support its growing customer base," added Smith.
"The pandemic forced the majority of organisations to embrace a hybrid approach to their workforce. This involved reassessing working patterns which proved a challenge for those who believed that being productive meant being in an office. But over the past two years hybrid working has become the norm for millions of people around the world. It's here to stay and is ingrained in how businesses operate. Zoom was poised to support dispersed workforces and will continue to do so as we put the worst behind us and enter the post-pandemic world."
With offices reopening over the course of the year, organisations have been getting to grips with the complexities and intricacies of the required changes. "While the exact structure of hybrid work is being worked out, the majority of the workforce will divide their time between office premises and remote locations, meaning businesses will have to offer the option for employees to access work from anywhere at any time in the virtual space," noted Smith. "Taking the time to understand the client journey and what they hope to get out of their new ways of working will open up many opportunities for resellers and SIs that focus on outcomes in a consultative way."
As we have seen, demand for Zoom these last two years has been significant, which meant it had to change how it worked with partners. "We needed to invest further and spend more time enabling our partners' sales and technical teams while building out their competencies across our platform," added Smith. "In turn, this has encouraged a wider ecosystem through customer demand to engage with Zoom. We are spending a significant amount of time in partner advisory counsels listening and learning, to then tweak areas of our operations to deliver continued ease of doing business."
AI is becoming increasingly core to Zoom's platform, noted Smith, with Zoom IQ its latest release enabling users to close sales faster, forecast more accurately, understand their sales motions better, improve their team's presentation skills and automate more work. Zoom also recently published an overview of its security momentum over the past six months including the third party certifications and attestations that are an integral part of its security posture, as they give customers visibility into its security programme and control environment.
"Cybersecurity remains the most in demand technology right now," observed Smith. "The threat landscape is always evolving but it has become more diverse as a result of the pandemic with more bad actors exploiting network vulnerabilities. This has also created a surge in the need for network visibility as businesses understand the need for complete oversight of all the data within their network. A recent study found that 27 per cent of partners expect network visibility to be a new area of growth this year, up from 10 per cent in 2020. As a result, it's very much on my radar right now and I'm looking forward to seeing how companies answer this increasing demand and how it will impact selling in the channel."
Smith sees opportunities across all markets, countries, verticals and industries, not least because the European UCaaS market continues to grow at 8.7 per cent CAGR. And as more organisations realise the value of a hybrid workforce Smith forecasts broader opportunities across these markets. "Our platform innovation continues to grow in EMEA markets with Zoom Phone and Zoom IQ being our latest additions," he commented. "Later this year we will extend into call centres which will open up further markets and addressable customers."
Smith's vision for the UK Zoom channel is ambitious but realistic. He is hoping that in four years time 80 per cent of the company's revenues within EMEA will be partner-led. "We are making significant investments into our channel, from people to programmes, to automation to training and enablement," he commented. "We're being deliberate in partnering with companies that are reciprocating the investments we make by investing their teams into learning about our platform."  
Just a minute with Dion Smith...
Best advice you have been given?
The harder you try, the luckier you get.
What talent do you wish you had:
To fly.
One example of something you have overcome:
When I was 17 I broke my back and legs, and seriously injured other parts of my body. I was told I'd never walk again but I was determined to overcome my injuries. Now, I can even run.
If you weren't in ICT what would you be doing?
Travelling and exploring new places, stopping off at a few vineyards and gastro pubs.
Your main strength and what could you work on?
My greatest strength is determination: I love complex challenges and will overcome them no matter what. But I must always remind myself that I have one mouth and two ears.
Three ideal dinner guests:
My Mum, Dad and sister: Time is precious so enjoy as much as you can with your family.
Name one thing you could not do without in your job:
My passport. I'm lucky I get to travel in my job, so my passport is essential.
What do you fear most?
Open water.
How do you relax when not working?
Spending time with my family and travelling across the UK to watch my sons play football. If there is any time left over – golf, cars and motorbikes.
How would you like to be remembered?
As someone who always gave more than they took.
Top tip for resellers:
Enablement: Building out your expertise and focusing on the vendor's messaging and technology provides the greatest differentiation and value when supporting clients.