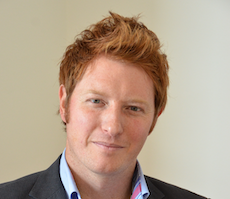 From the moment online retailers delivered a plausible and convenient alternative for consumers a counter strategy became essential for traditional high street sellers, setting the stage for a hi-tech resurgence.
In this, according to Pangea Managing Director Dan Cunliffe (pictured left) and Sales Director Bernie McPhillips (pictured below), there is much to be said for the IoT.
The high street is burdened by well documented pressure from digital rivals but the options for bricks and mortar retailers are far from closing. To take back control, retailers must show themselves capable of a resurgence and trigger a counter response underpinned by technological innovation rather than convention. "The main drivers in the retail sector used to be behind the scenes solutions that ensured products were transferred from factories to shop floors without money and time wastage," commented McPhillips.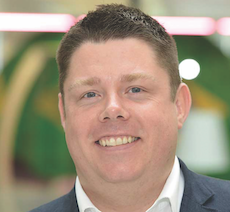 "Take logistical considerations such as route optimisation for retail supply chains, EPOS capabilities and stock tracking. These elements are still important but more of the technology needs to be upfront, visible and tangibly present on the shop floor. Today, the customer experience is fundamental in many retailers' ethos. This is an experience that can begin even before customers arrive at the store. Rather than have them enter the shop and wait to be served, retailers are looking to engage with buyers by delighting and enticing them with interactivity."
With the support of capable ICT providers that have IoT in their kit bags, high street retailers can deliver the smooth experience buyers are looking for. At its core IoT is driven by outcomes. It informs decisions and makes businesses more effective at what they do. "The possibilities are endless, and the channel's best bet at differentiating themselves from other providers is to master IoT solutions and strategies as they emerge," added Cunliffe.
The channel's best bet at differentiation is to master IoT solutions and strategies. The possibilities are endless
"The channel has a major part to play in providing the retail sector with intelligent connectivity options that solve several of retailers' biggest challenges. Channel players need to pinpoint opportunities as they arise and maximise their offerings to retailers."
A viable response is now critical for traditional retailers across Britain. Physical stores are contending with potentially expensive rent, and the proliferation of on-demand services means there's less opportunity for customers to handle products, reducing emotional buying. "It's also harder to initiate flash sales and deals at the same speed as digital rivals," said Cunliffe.
Alongside these challenges, a most favoured outcome is the customer experience which can match the product in terms of importance. "There's a big focus on the experience pre, during and post visit, whether to a physical store on online," stated Cunliffe. "Targeted advertising encourages pre-visit engagement through offers tailored to user preferences or what customers are likely to want. During the visit, IoT solutions such as beacon and NFC technology enable more targeted in-store offers. And, loyalty points systems will keep customers engaged throughout the experience."
The online shopping bubble is unlikely to burst, and traditional retailers must accept that economic pain will remain a fact of life without a tech refresh. "Retail is a massive sector with many types of players," added McPhillips. "Furthermore, the IoT market is vast and complex. But ICT providers don't need to change their business model or focus to succeed in IoT. They should take their expertise and knowledge of requirements and pain points in a particular sector and apply these to the opportunity at hand."
These opportunities come in many shapes and sizes, and for example include end-to-end solutions that focus on smart EPOS terminals; security anti-theft tags for stock; smart vending; digital signage and warehousing technology. The common thread, says McPhillips, is for resellers to carve out a niche within retail using their specialism, then transform the offering by incorporating IoT. "Perhaps that means utilising geographic advantages if the reseller is shipping-focused and based near a port, or manufacturing-focused if based near a factory," he explained. "The key message is to do what you do best."
This all means that defeating the high street is no walk in the park for online sellers, believes Cunliffe. "Customers expect digital outlets to be up and active every minute of every day, which means retailers need to make sure maintenance and customer service is readily available at all times," he added. "On top of that, customers are likely to compare offerings between websites. They won't buy on Amazon what they can get cheaper on Alibaba. Review systems also come into play. A retailer or product review left by previous customers often makes or breaks a sale."
ICT providers don't need to change their focus or business model to succeed in IoT
Cunliffe also noted that Amazon Go concept stores are taking the market by storm. "Completely sensor and camera driven, these transaction-less outlets are a shining example of what you can achieve through IoT solutions – the ultimate in seamless shopping," he enthused. "But there are still challenges that need overcoming such as back-up connectivity should the store struggle with outages, stock pricing updates and system failure procedures."
The chasm between traditional retailers and the digital world once seemed unbridgeable, but a path through the impasse is clear to see and it leads to a strategic balance between new and old. "Success in the future will depend on the ability of providers and retailers to hybridise bricks and mortar with the digital experience," stated Cunliffe.
"Outlets that combine the best of both worlds will provide the greatest experience for customers and the most value for retailers. In terms of connectivity, providers need to push 4G primary and backup for retailers. For example, the seamless delivery of a pop-up environment requires seamless connectivity on the move."
A pop-up retail capability is becoming a necessity. By bringing the retail solution to the crowds directly, companies can be more proactive in their strategies. And using technology such as 4G primary and back-up, outdoor EPOS and digital signage, they can quickly deploy and deliver an experience that matches the in-store equivalent. Thus, IoT and connectivity solutions are changing forever the way retail works. Sensor-driven data will enable retailers to analyse and understand their footfall patterns, build strategies around flash sales and facilitate bespoke offers for returning shoppers.
"So cross-selling and up-selling is key," said McPhillips. "When buying a car via a dealership's touchscreen terminal, or making an Amazon purchase, you get recommendations on accessories, additional power sources and suggestions based on what other people with similar purchasing habits enjoy. Delivering a top notch digital experience in a physical environment is the way forward for retailers.
"Customer facing systems are taking centre stage. Staff members at Apple Stores, for example, are walking-talking points of sale. All you do is hand over your Apple ID for a completely seamless transaction. The question is no longer 'are the shoes comfy?', or 'does the phone work'? It's 'how was my experience with this retailer?'. IoT is helping to deliver those great experiences."
Returning to the nuts and bolts of retailing, many businesses struggle to locate stock or shift stock to shelves efficiently. Others are unable to track footfall, monitor best selling items, or they need to open fully connected pop-up shops. They may also be complacent, or even reluctant to start the move into digital transformation. The way around this is to shift the conversation to the value of IoT. "Saving time, reducing costs and making employees safer are all aspects that are hard to ignore," stated McPhillips.
"But for resellers, one of the biggest challenges they face is having people with the ability to open the right conversations and ask the right questions. Take the mobile salesperson – most businesses have mobiles, so the goal is to replace the existing supplier of the service. But in the IoT sphere there's usually no existing solution in place. The pain points are there and shared by many, but the tricky part is helping businesses to recognise them in the first place."
Partnerships, says McPhillips, are an important step in overcoming these challenges. "They're key in most industries, but critical in IoT," he added. "Both the retail and IoT markets are so colossal that nobody can conquer them alone. But through strong partnerships companies can band together to create solutions that will reshape the sector as we know it."
Top tips
• Rather than stretch yourself thin, carve out a niche in retail based on your strengths. Then incorporate IoT into your offering.
• Don't be afraid of asking questions to open up opportunities. Many decision makers aren't aware of the pain points that you provide solutions for.
• Maintain a customer-centric approach. User experience is king, and retail needs to be as delightful as it is seamless.
• Know your sector and the challenges that exist within it, especially your clients' competitors.
• Follow your typical sales cycle. Product sets may be undergoing change through digital transformation, but the core tenets remain the same.