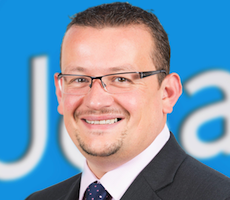 Jola's CTO Adrian Sunderland claims the launch of eSIMs will unlock the IoT market opportunity for the channel as the firm positions itself as a global IoT MVNO. 
The multi-network eSIM is based on eUICC (Embedded Universal Integrated Circuit Card) technology which enables users to switch service provider over-the-air, removing the need to change the SIM card itself - meaning that eSIMs automatically connect any device to any network anywhere in the world.
Jola worked with Simfony to provide the MVNO network elements while the eUICC technology is delivered by Massachusetts-based iBASIS.
"GSMA-compliant and network agnostic eSIMs offer an alternative to MNO contract lock-ins and save customers the pain and expense of swapping out SIMs," said Sunderland. 
"eSIMs can be embedded into devices or delivered as a traditional removeable SIM. Operator profiles on the eUICC can be securely and remotely updated over-the-air. 
"Instead of swapping plastic SIM cards, profiles are downloaded and managed on a device as needed. In the eSIM model, a device is ready to deploy anywhere network coverage exists. If a device moves and crosses networks its profile can be updated quickly and securely."
Jola has deployed a UK-based MVNO mobile core network with global connectivity to over 450 networks and local connectivity with all four UK mobile networks.