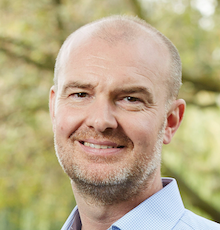 SSE Enterprise Telecoms is to nearly double its number of unbundled BT exchanges in just over a year, reaching around 80% of UK business premises. 
 
As part of the accelerated expansion programme, SSE Enterprise Telecoms is delivering connectivity to Three UK with 198 exchanges already deployed, and another 259 which will be available soon. 
Three UK is set to utilise the expanded exchange footprint to enhance its existing 4G and to create new 5G networks.
SSE Enterprise Telecoms have also worked with O2 on fibre deployments in the capital. 
Colin Sempill (pictured), Chief Executive Officer, SSE Enterprise Telecoms said: "Our business is continuing to deliver significant network expansion, bringing high capacity connectivity to business premises across the UK, as well as helping to facilitate 5G roll outs and future proof the UK's digital ambitions. 
Sarah Mills, Sector Director for Network Operators, SSE Enterprise Telecoms said: "The applications enabled by 5G technology, such as the Industrial Internet of Things (IIoT), are a core component of enabling Industry 4.0 and will pave the way for the successful future of our economy. 
"This next phase of our expansion has more aggressive scale and delivery timelines than ever before. Our vision to support UK innovation is anchored in 5G and edge computing, and we're just getting started."