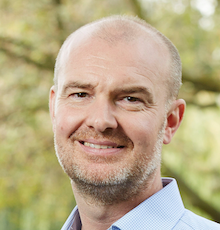 What impact will 5G have on the comms industry? SSE Enterprise Telecoms CEO Colin Sempill assesses what he believes to be 'the channel's biggest opportunity'.
No single technology has ever had, or will ever have, so profound an impact on the comms channel as the spread of 5G, and the major trend over the coming two years will be around 5G readiness, believes Sempill. "A key component of the 5G launch will be high capacity fibre connectivity which must provide reliable ultrafast backhaul to core networks and masts," he explained. "This infrastructure will, in turn, support the advancement of smart cities and connected vehicles.
"As the global race to offer superfast 5G technology hots up, the UK telecoms industry – which is relied upon to provide critical national infrastructure – must strike up strategic partnerships that can drive  large digital projects that help to advance the UK's 5G connectivity ambitions. That's why we're investing in the underlying networks and partnerships to support 5G. Such partnerships emphasise the commitment of the industry to work together to future proof the country's digital ambitions."
Sempill is convinced that the channel's biggest opportunity lies in 5G technology and the enablement of smart cities. "Flexible, reliable and fast 5G is set to be the linchpin for a quicker, more efficient way of working, travelling and consuming," he added.
"It is predicted that 5G will take virtual and augmented reality, high definition video streaming and the IoT to new levels, turning technologies like self-driving cars and smart buildings into part of everyday life. But, one of the main roadblocks is infrastructure. 5G requires a lot of it, including high speed fibre cables, mobile masts and data spectrum bands. This is where the opportunity for partnerships resides. If every telco or service provider decided to develop infrastructure to support 5G on their own we'd have a mess of inconsistency and ultimately an inefficient network."  
Propelled by new forms of technology such as cloud, IoT and AI, data consumption will increase exponentially, forcing businesses to carry out more data processing than ever before. This will drive greater demand for flexible bandwidth, noted Sempill, and 5G will be key in underpinning this demand.
"We're seeing this with smart cities," commented Sempill. "In recent months, for example, we've formed partnerships with MNOs and other service providers like CityFibre to build out a strong network of partners who can work together to push through major digital projects. These partnerships enable us to begin laying the groundwork for eventual 5G roll outs across the capital, utilising Thames Water's waste waterway networks, and providing a substantial number of UK business postcodes with access to high capacity optical and Ethernet services."