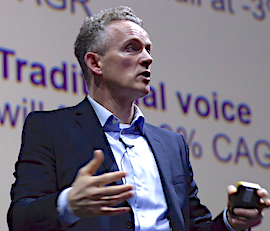 Gamma's results for the year ended 31st December 2019 point to significant growth in the UK indirect business which generated a 22% hike in gross profit to £119.1m, up from £97.5m in 2018. 
The UK direct operation saw profit up 16% from £32.8m in 2018 to £38.2m last year.
Overall gross margin was up to 51% compared to 46% the previous year on total 2019 revenues of £328.9m (£284.9m in 2018, up 15%).
SIP trunk deployments increased 19% last year while the number of Horizon cloud PBX users increased from 435,000 to 522,000 (up 20%), with the main growth area being Gamma's target SME segment.
The company's UC upgrade to Horizon, called Collaborate and launched in March 2019, now has over 9,000 users.
Broadband sales rose 18% and Ethernet connections were up 66%. Mobile connections increased from 50,000 to 62,000 (up 24%).
Gamma also noted that it is gearing up to launch an integrated cloud contact centre solution in late 2020 enabled by the acquisition of Telsis which bolted on development capabilities.
In February this year Gamma also boosted its UCaaS strategy with the acquisition of Exactive, an expert in Microsoft Teams. 
CEO Andrew Taylor stated: "Despite an increasingly competitive market our product performance was positive and during the period we continued to strengthen our market capabilities through the development and launch of new products and services. 
"Our Dutch business continues to build market share and we will shortly be operating in Spain following the acquisition of Voz Telecom."