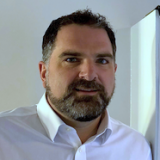 Fidelity Energy and mobile phone retailer Carphone Warehouse Business have signed a partnership agreement that will help mobile resellers add energy sales to their product portfolios.
The collaboration was finalised on October 1st and the two businesses are currently jointly delivering roadshows across the country and have already secured multiple new partners. 
"The scale of the opportunity within the Carphone Warehouse Business partner base is phenomenal," said Fidelity Energy MD John Haw (pictured). 
"This is the biggest partnership we have ever signed and puts us firmly on the map in the mobile reseller channel.
"We expect to sign up more than 100 partners over the next few months. So far, we have held launch events at the Imperial War Museum in Manchester, the Carphone Warehouse Business head office in Poole and we are running another event at the Kia Oval on October 30th." 
Haw said the partner portal designed and built by Fidelity Energy's IT guru Howard Richards was fundamental to securing the partnership.
"Our Ambolt portal, along with the B2B online e-commerce platform and ability to support and scale for the rest of Carphone Warehouse Business played its part," he added.
The energy programme will be marketed in the mobile channel under the Business Energy Saver moniker and will be offered as a 'partner perk'.
Carphone Warehouse Business Head of B2B Indirect Sales, Carlos Pestana, said the service has already 'made an impact' with its dealers. 
"It's important that we continue to improve not only what we offer from an operational level with the new partner portal, but also ensure that our partners are given the opportunity to earn additional revenue streams from their existing bases," he said.