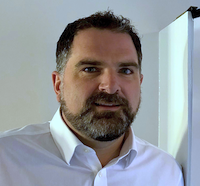 After hitting the ground running at Comms Vision just three years ago Fidelity Energy has powered past the £100 million Total Contract Value (TCV) milestone.
For many ICT resellers, adding energy services to their portfolio may seem a distraction from their core activities, but Fidelity Energy Managing Director John Haw believes the operations centre he has established, combined with the Ambolt partner portal perfected by Fidelity Energy's IT genius Howard Richards, means over 300 resellers will be selling energy services to customers by his third anniversary as Managing Director. "The last three years have gone in a flash, but we would not be where we are without our amazing group of ICT partners," commented. "They are all entrepreneurial go-getters who identified the opportunity diversifying into energy brings and have embraced it successfully." 
Fidelity Energy now has a broad church of channel partners across a broad range of businesses, noted Haw. "Our partners have signed up major sporting venues, housing associations, care home, hotels, restaurants etc, and on average we are securing 250 new customers a month, 90 per cent of which are signed using our DocuSign platform."
Fidelity Energy Chairman Simon Payne was the original mastermind behind the company's channel launch. Having already built and sold telecoms businesses operated on a channel-only, profit share basis, Payne was convinced the supply of energy would fit seamlessly into the channel mould and his instinct was right. Many telecoms companies now have energy supply as a crucial part of the joined-up services they provide. Focus Group, for example, has Focus Energy, Arrow recently acquired a broker to enter the space and the likes of Verastar, XLN, Telecoms Plus and Blizzard are long-term energy suppliers.
You can't give a telecoms or IT reseller a portal and expect them to go out and become energy experts on their own
The timing of Haw's recruitment at the genesis of Fidelity Energy was perfectly timed. Having spent 10 years heading up Gamma's channel he knows how resellers tick and was undaunted by the challenge of persuading 'dyed in the wool' comms resellers to start selling a completely different set of products from an unfamiliar and complex industry. "The plan was to grow the number of channel partners and to get 30 key partners earning £10,000 each in commission," recalled Haw. "To do that we needed a rock solid operational proposition, the ability to scale sales without exponential headcount growth and a wider choice of suppliers. 
"The back office is now complete and Ambolt is recognised as one of the best in the industry. It has been a game changer for us. By understanding telecoms businesses and just how tough they are on making sure the customer experience is right, we basically crafted the processes from scratch. This means the portal we have built prevents errors and ensures customers get a good experience. In addition, we support the channel from a sales perspective. You can't give a telecoms or IT reseller a portal and expect them to go out and become energy experts on their own. We support sales, marketing and we do that with real enthusiasm and a sense of fun."
Haw admits that not all resellers are taken with the idea of energy resale immediately until they understand how cash generative it can be. "As with anything new, there can be resistance," he stated. "If I had one pound for every time people used the same excuse not to sell hosted in the early days of that product, I would have enough for a very good lunch! It's fair to say that resellers adopt differing approaches. Some integrate the product into the core business and use the current sales team to take it to market. Some hire a sales specialist to purely focus on the cross sell into the base. Others have set up entirely new businesses that leverage the current reseller brand. There is no right approach, it's tailoring the approach to the partner's needs, and our systems allow us to do that." 
So, does Haw believe resellers can make more money selling energy than telecoms products and network solutions? "Well that's a question! I wouldn't expect anyone to believe me if I said yes, and in truth if telco is already established in their business it would take some serious displacing," he said. "But it's easier to grow the energy business and there are no new overheads, so contribution wise it's a strong contender."  
Haw has some heavy hitters alongside him to support his channel sales programme including co-founder Paul Havell, (former Sussex and Derbyshire bowler), James Benning (former Surrey and Leicestershire batsman) plus former UK international rower Sean Dixon. Such a pedigree has enabled the company to secure some major clients such as Bath Rugby Club and the world famous Kia Oval but, as Sales Director Dixon stressed, for reseller partners more low hanging fruit has set many on the road to success in energy. "Without exception, every partner we work with could pick the phone up to 30 customers that they class as friends or close associates," added Haw. "Leveraging that relationship is simple, and as you really are helping them to save money it's an easy sell."
With 40 per cent growth last year and two billion kilowatts of energy now under management across its partner base, Fidelity Energy is poised for its next expansion project which Haw describes as another 'game changer'. "We are currently working on a massive project for a large client which encompasses a bespoke software portal for dealer management, an online B2B switching platform and an operational outsource to enable them to target their entire direct customer base," he explained.
With its credo to disrupt the ICT channel and create opportunities on the back of its portal technology and back office support, Fidelity Energy believes it has a bright future alongside its reseller partners regardless of energy market fluctuations. "The market is much harder than it was two years ago but our market understanding, systems and partner relationships more than make up for that," stated Haw. "We had our best month ever in August in the channel, which is incredible given the number of people away on holiday."