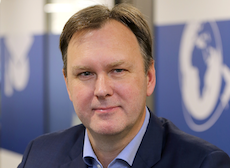 A new group set up by Westcon-Comstor aims to curtail the activities and competitiveness of unauthorised broker channels while at the same time unlocking a market estimated by Accenture Strategy to be worth $4.5tr by 2030 (across all sectors). 
The just launched Circular Technology Solutions arm builds on Cisco's certified remanufactured equipment business, Cisco Refresh, where Alastair Borissow (pictured) headed up global sales, marketing and strategy. 
Borissow has moved to Westcon-Comstor to lead the new Circular Technology Solutions group and is responsible for developing a portfolio of circular technology solutions that extends Westcon-Comstor's current Cisco Refresh offering. 
"End users will benefit from 100% certified remanufactured OEM-quality equipment at lower cost than equivalent new products," stated Borissow.
"This improves sustainability, benefits the environment and reduces the impact and risk of unauthorised and unlicensed equipment on the secondary market.
"Our mission is to improve the overall customer experience around OEM-certified equipment consumption. The opportunities created are good for partners, good for profits and good for the planet."
Borissow also noted that Westcon-Comstor's Global Deployment Solutions business had worked with Cisco to develop a blended equipment programme and a solution for global customers.
"Comstor has led the way with Cisco Refresh," he added. "The Circular Technology Solutions group will help partners to compete with unauthorised broker channels and give customers enhanced protection from the risks associated with non-certified grey, counterfeit or unlicensed products."
According to Borissow, ordering certified equipment will be no different from acquiring newly manufactured products as the previous complexities involved in blending re-manufactured IT equipment have been ironed out. 
"Future enhancements will extend to other areas of the Westcon-Comstor vendor portfolio, as well as new service areas," added Borissow.