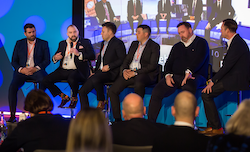 Pragma's mission to become a service provider and build an all-encompassing partner support business continues to flourish and was a key theme at last month's partner conference.
Pragma partner conferences are always an affirmation of the benefits that accrue from a channel-only service model and this year's event, staged at the Staverton Estate Hotel in Daventry, was no exception. The post-event social media activity testified to that, and reflected how Ericsson-LG's gamble to exclusively underpin Pragma's partner model has paid off – as Ahed Alkhatib, Vice President for Sales and Marketing at South Korean-based Ericsson-LG was eager to point out: "Pragma were once again our Global Partner of the Year and continue to lead in both cloud sales and overall growth."
At this year's conference there was a step-up in bold statements and a marked increase in Pragma's confidence, which is unsurprising given its seventh year of growth. So much so that Sales and Marketing Director Will Morey was happy to take a dig at some vendors that he claims, 'treat channel partners as agents rather than professional solutions providers'.
Managing Director Tim Brooks was equally upbeat on Pragma and its partners' irreversible move into cloud sales. "We've all proved we can successfully deal with change," he said. "Cloud will be the biggest part of our business this year and we are rapidly changing from being a distributor to a service provider."
With the unveiling of a new WebRTC UC collaboration product available via Pragma for the first time outside South Korea and new integration of the iPECS cloud solution with Microsoft Teams, the big announcements kept coming, but the most compelling came left of field. Netherlands-based Pragma supplier So Connect has introduced a non-telecoms product called Web Listings which, according to Brooks, has netted partners £1 million in gross margin since it was launched earlier this year.
Cloud will be the biggest part of our business this year and we are rapidly changing from being a distributor to a service provider
As reported in January's Comms Dealer, the new white label service keeps customer web rankings up to date so they can see who has searched for them online, if they've had reviews and what scores they've received. "It's simple to set up and kept up-to-date via an API," said Brooks. "It offers over 50 per cent margin for partners and has added £1.9 million revenues. We now have 10,000 customers using it with another 8,000 currently onboarding."
In line with the 'Scaling New Heights' theme, two key Pragma appointments were announced at the conference, namely experienced marketeer Lorraine Clennell, who joins as Head of Marketing, and Operations Director Grace Lawless who is leading the company's transformation into becoming a full-service provider. Clennell said over the next year her focus would be on four areas, producing 'fit for purpose' printed collateral for partners, better video content, better case studies and running Pragma roadshows 'because relationships are our DNA'.
Lawless, who has joined Pragma having helped develop the contactless smart cards we all use today, said she would be concentrating on upgrading training, support and processes, especially helping engineers gain speedy access to information. "It's all about how we can improve and creating smart processes. That's what makes me tick," she said.
At the concluding partner panel debate the final word went to Patrick Johansson, Head of Global Network Sales and Commercial Management at Ericsson-LG. "We are absolutely sure channel is the right way," he confirmed.
Whether others share that view is debatable and with the threat of virus contagion it will be interesting to see what messages leaders of the heavyweight vendors deliver to the channel in the challenging times that lie ahead. As guest motivational speaker Keith Hatter of Planet K2 put it: "So many leaders have lost their sense of purpose. When your confidence is strong your motivation will be consistent and sustainable. Your mental health and well-being will improve, and you will keep going when others don't.
"Most results are delivered through teams who have mutual accountability for shared goals. But you must have goal clarity. Only focus on the stuff you can measure. Your why, what and when must be sorted first."
On that note, the winners of the 2020 Pragma Partner awards, which were again hosted by Comms Dealer Editorial Director Nigel Sergent, were recognised as follows:
• Overall Reseller of the Year – Berry Telecom
• Resellers of the Year – 5G Communications, Lily Comms, BDR and Focus Group
• Overall Cloud Reseller of the Year - 5G Communications
• Cloud Resellers of the Year – DataKom, BDR, Lily Comms and One Connectivity
• Fastest Growing Resellers – Adept and YTL
• New Resellers – Mtech and NIX
Customer Solution of the Year – Focus Group
• SoConnect Reseller of the Year – BDR
• iCall Reseller of the Year – Lily Comms
• Phone-Link Reseller of the Year – Berry Telecom.n