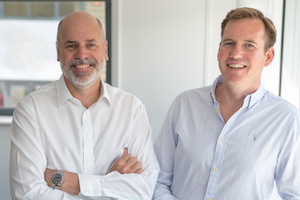 A new business set up by Pragma provides resellers with a single resource for digital services and capabilities. 
According to Pragma MD Tim Brooks (pictured left) demand for white label digital services is increasing, prompting Pragma to consolidate its digital portfolio in one place, including Web Listings which has proved especially popular.
Commenting on the new company, called Candio, Brooks stated: "Candio's digital services help resellers to generate a recurring stream of revenue by providing useful and simple products that a reseller can easily add to their portfolio.
"We have a dedicated team in place and a roadmap of new services, all designed to enable resellers to boost their recurring revenue and margins."
During the lockdown Pragma saw digital services grow by over 600% as resellers looked to provide services that could be sold and implemented remotely and 'also help their end user customers win in a digital world', pointed out Director Will Morey (pictured right).
"Founding Candio enables us to focus on this part of the business. The growth we have seen has been explosive in the last few months as digital services are more important than ever to resellers and end users seeking to transform their business with digital technologies."