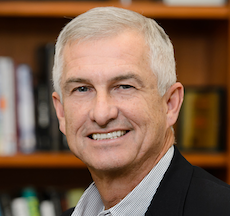 Resellers must embrace subscription-based service models to prosper in the new digital future, says Mike Baur (pictured), CEO of ScanSource.
As the UK government announced its full fibre and 5G strategy to enable faster, more reliable connectivity, the co-founder of one of the world's largest distributors told channel partners his business was going through a paradigm change to embrace opportunities greater bandwidth will bring.
Speaking at the company's partner conference held at the McLaren Technology Centre in Woking, Surrey, and citing research carried out across 1,000 customers, Baur said partners must be prepared to adapt to new channel models or risk losing customers.
"The question you must be asking yourself is… what is the future of the channel? How do I move from capex to opex? Solutions as a service is the new model and subscription based selling is the future," he said.
 
ScanSource has built a $4bn business across 40 countries based on a traditional distribution model but, as Baur stressed, this will now change based on customer demand.
"McLaren now makes road cars because their customers wanted them to. The end user, not technology is driving change. That's why we are making the biggest change in our business for 40 years. We are no longer a distributor, we are now a technology solutions business."
Baur said his company will be ramping up its services portfolio to embrace recurring revenue models across connectivity and cloud, mobility, payments, SaaS, managed services and IoT. 
There are also plans to build a ScanSource Business Transformation team in the UK led by Paul Emery, Vice President of Cloud Solutions and Services, Europe, which will help selected resellers understand customer lifecycle management and become recurring revenue businesses, thereby increasing exit values.
"Research suggests to us that our partners will be more successful by delivering solutions. Where can we fill gaps around solution delivery we will. We'll have an online educational track and people that can go out with you to help you sell value added products and improve the value of your business. 
"It's like a franchise model without us owning your business. We will curate customised solutions for you," added Baur.
Paul Constantine, President of international business at ScanSource told delegates the key to success in building a recurring revenue model was to keep engaging with customers and adding services.


"If you can build a recurring revenue business it will provide great margins but it's a challenge. Everything is good now. It's about how a product works for the end user. You have to add value all the time otherwise the customer will cancel the subscription," he said

.
ScanSource's cloud connectivity portfolio has recently been boosted following the acquisition of UK technology services distributor Intelisys Global.