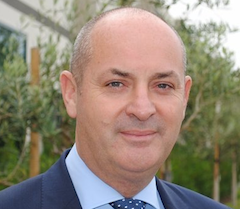 Exclusive Group has pulled in ex-Fortinet and RSA executive Andy Travers (pictured) as SVP Worldwide Sales & Marketing and announced the departure of COO Barrie Desmond who leaves the distributor at the end of the year. 
The appointment of Travers marks a ramping up of Exclusive's ambition to become the world's biggest specialist VAD in cyber security and cloud transformation with targeted revenues of $10bn over the next five years.
Travers brings 25 years IT channel sales experience working for VAD and global vendor organisations. 
Previous roles include SVP and VP Sales positions on both sides of the Atlantic for Fortinet, as well as VP EMEA stints at F5 Networks and, most recently, RSA Security.  
Exclusive Group CEO Olivier Breittmayer stated: "Following our recent investment from Permira we set ourselves high expectations for executing against our new growth strategy. 
"Andy has the skills and experience necessary to contribute to us achieving our goals and understands our culture and values having been in the orbit of Exclusive working with our vendors and channel partners for many years."
Travers added: "I'm joining at a pivotal time for the business as we commit to exploiting the global opportunities around cyber security and cloud transformation to reach another step-change in growth. The investors and management team have developed a strategy and now it's all about the execution." 
Outgoing Desmond commented: "My work here is done. Now it's time for the next generation of disruptors to take on the challenge of growing the world's largest specialist VAD."