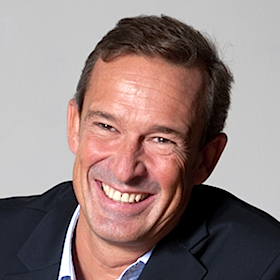 Exclusive Group CEO Olivier Breittmayer put to bed any idea of a merger when he sealed a major investment transaction with new owner Permira.
He then wasted no time in setting his sights on a $10 billion revenue target in the cloud and cyber security markets. But to have merged with another major VAD would have thrown a spanner into Exclusive's growth plans, strategy and culture. And in decisively shunning the approaches of wide eyed suitors Breittmayer underscored and preserved his own independent vision and the strong character of Exclusive's trademark proposition. "Rather than dilute our distinctive value oriented approach by consolidating with other VAD players we opted for an investment partner that understands our mission and will work with us to achieve our ambition," he stated. "The Permira investment enables Exclusive Group to extend its vision and, crucially, create the world's largest global specialist VAD in cyber and cloud transformation." 
During the last three years Exclusive Group has grown from an EMEA-wide business to a global organisation trading with more than 13,000 resellers, employing over 1,600 staff and generating revenues of 1.75 billion euros in its 2017 financial year, up 38 per cent on the previous year and ahead of target. For a decade Exclusive has doubled annual revenues every two years and Breittmayer is gunning for $10 billion in the coming years as he pursues organic and acquisitive growth based on a fundamental proposition that was first broached in 2005.
"Back then I was CEO at an IT VAD in France called Techniland," recalled Breittmayer. "At that time the distribution industry had not evolved in two decades before I started thinking about the concept of 'exclusivity'. In other words, working with vendors who used us as their sole, exclusive distributor. Soon, we had convinced our first two vendors to drop their other VADs and trust in us alone to focus on their business, allowing them to focus on us. We chose a new name, Exclusive Networks, and became successful with this revolutionary approach."
In hindsight I would have maintained exclusivity for longer with certain vendors, and fought for it with more passion
Having got the idea of 'exclusivity' accepted Breittmayer expanded the concept to a 'one contact – many connections' proposition. Global expansion followed through a mix of acquisitions and new office openings across EMEA, Australasia, Asia and North America. "In hindsight I would have maintained exclusivity for longer with certain vendors, and fought for it with more passion," added Breittmayer. "The facts speak for themselves – where we've kept exclusivity we've delivered higher growth."
Breittmayer also affirmed the important role played by the UK as a springboard for technology companies, either when expanding into EMEA or launching new functions, models or products. "So it's important we remain relevant here," he added. "The UK really sets the tone for the rest of the company, particularly as launching new vendors and products is more important than ever. The UK is also a significant innovator in terms of value added services development. Many of our PASSport services are designed and market tested here including our forthcoming range of managed and cloud-based services. The UK is both our biggest and most innovative market. It must remain so, not only in our planning for tomorrow but also the day after tomorrow."
Exclusive adopted its 'day after tomorrow' mentality to focus more sharply on achievable strategic opportunities. "This has been a liberating experience for business leaders across the organisation as we concentrate on evolving our model to one of exploration and exploitation," explained Breittmayer. "Exploration refers to markets where we act as a disruptive force, using new technologies that enable channel partners to stay relevant while acting as an accelerator for vendors seeking rapid market entry and penetration. Exploitation recognises the potential for consolidating and extending the market position for more mature brands using a different blend of tactics in defined segments of cyber security and cloud transformation."
The cyber security and cloud transformation sectors are becoming increasingly complex and both suffer from a lack of skills and knowledge. "The industry needs a VAD that can meet this challenge and we aim to do that," commented Breittmayer. "It is critically important that resellers and SIs remain relevant and that means developing an understanding and skill set around cloud. This extends beyond merely articulating cloud-based solution propositions. Resellers and SIs must be able to accommodate the changing trends in IT consumption from hardware to software and from upfront procurement to a variety of payment and ownership models. This is why they need a specialist to help."
Breittmayer expects the cyber security and cloud markets to remain hotbeds of innovative and disruptive new technologies. He says the likes of Blockchain, AI, the IoT and OT (Operational Technology) are all materially significant to the evolution of the cyber security and cloud transformation markets. "Specifically, the maturation of these technology paradigms will take automation to unprecedented levels and have a revolutionary effect on how organisations trade, engage with customers and deliver shareholder value," stated Breittmayer. "There are a number of market segments where we intend to enhance our portfolio in order to maximise choice and wallet share. This may vary between global regions." 
To better organise and facilitate its global expansion Exclusive evolved over time into a value added services and technologies group with four VAD divisions - Exclusive Networks, focused on cyber security; BigTec, the cloud transformation business; ITEC Exclusive Global Services which specialises in global project management, logistics and implementation; and the leasing and financing services arm Exclusive Capital. The complete offering was formalised on a global scale in 2017 and includes professional and support services.
"We believe we have a distinctive approach in terms of value add and our commitment to skills, knowledge and engineering resources on a global scale," said Breittmayer. "But we also place a strong emphasis on local relationships, making life easier for partners and enabling them to transact faster on bigger and better deals by calling on our one-stop-shop specialism. Distribution is a 'people' business. That's what drew me to focus on this area. And I have always had a passion for the IT industry, it's so fast-paced and always evolving with new business models and disruptive technology. This is certainly the case in cyber security and cloud transformation, the two most significant markets in IT that also happen to be inexorably linked."
Just a minute with Olivier Breittmayer
What talent do you wish you had?
Juggling fire
 
What do you fear the most?
Wasting time
 
Tell us something about yourself we don't know
I collect cars, typically fast ones
Name three ideal dinner guests
Steve Jobs: I have many questions for such an innovator; Nelson Mandela, a disruptive, global force for good; and Didier Deschamps to bring along the World Cup!
 
How would you like to be remembered?
As someone whose ideas and innovations stood the test of time
 
Name one thing you couldn't do without in your job
My team
Industry bugbear
I still find it difficult to understand why there are not more women in senior leadership positions in IT
Top tip for resellers
Stop bluffing about your cloud competency and get a recognised, independent accreditation
Biggest career achievement
Convincing vendors that distributor exclusivity brings huge benefits for everyone in the channel