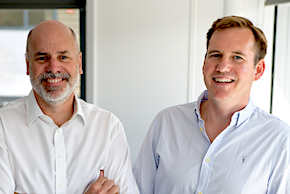 Pragma is in great shape and adding muscle on all sides as an ever evolving channel focused CSP, according to Managing Director Tim Brooks and Sales and Marketing Director Will Morey.
Established just seven years Pragma wasted no time in transforming from a distributor to cloud service provider and now plans to double revenues within four years building on 14 per cent growth this year. From the outset Pragma recognised the cloud telephony opportunity and in 2016 became the first country globally to launch Ericsson-LG's iPECS Cloud, now one of the fastest growing hosted UC platforms in the UK. "This year we expect over half of our revenues to be generated through our cloud service," stated Brooks. "The continued growth of our on-premise business, despite the purported decline across the industry, has also helped us to gain ground."
As Ericsson-LG's sole UK provider Pragma operates a policy of controlled distribution to ensure mutual benefit and avoid negative impacts on existing partners. Pragma targets owner managed, mid-sized reseller businesses that sell both on-premise and cloud-based comms solutions. And in a recent market survey it identified that over 94 per cent of partners expect to see significant growth over the next three years.
"Pragma is on track to help them get there supported by new portfolio additions, such as iPECS Cloud Mobile (iCM), a solution that embeds PBX functionality onto mobile devices without the need for an app," added Morey.
"Our 'cupboard to cloud' proposition has given channel partners an advantage both in terms of impact to their business as well as their proposition to end user customers. This is evidenced by the continuous enhancements delivered through to Ericsson-LG's cloud platform and the launch of a new range of cloud-ready iPECS handsets in 2020. The iPECS products in our portfolio are interoperable and can be deployed across on-premise, cloud and hybrid environments."
Pragma's roadmap is also centred on WebRTC. "This enables simple collaboration tools to be delivered to users and extended out of the enterprise making true UC far easier," said Brooks. "During 2020 Ericsson-LG will be launching its iPECS WebRTC application. We will also be introducing our cloud contact centre solution in the coming months and new provisioning tools to enable easy deployment of large cloud-based solutions."
Another important focus area is around what happens after end users make the move from ISDN to SIP. "While our channel partners have facilitated this move it has brought about a decline in their monthly billing revenues," noted Morey. "So we've introduced new bolt-on services and products to help boost recurring revenues. The launch of Web Listings is an example of how we've helped partners offer more value to their customers while adding up to £5 margin per customer location per month. In the first month of launch we had in excess of 5,000 subscribers and see this continuing to grow."
Pragma carried out research to identify the key business challenges faced by comms resellers, and then developed a series of video guides complete with industry insights to help overcome them. This, says, Brooks, is one example of Pragma's policy of 'simplificationalism' in action. "The industry must move away from jargon and acronyms," added Brooks. "The tangible benefits that technologies bring to customers must be more easily understood."