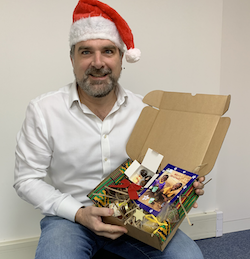 A meeting to discuss the distribution of festive hampers to partners and staff in these challenging times led John Haw and his Fidelity Energy team to a light bulb moment.  
"One of the team raised the issue of all the waste in a Christmas hamper," said Haw. 
"All that plastic, a basket that gets burned when you run out of wood for the chiminea and the standard Christmas pudding that gets put in the cupboard and ends up being thrown in the bin eight years later! 
"Over the course of our discussion we also decided that most people like to give more than receive. 
"Research suggests that giving and acts of kindness can improve your mental wellbeing. So much so the NHS publish this in its five steps to mental wellbeing. 
"It creates positive feelings and a sense of reward, gives you a feeling of purpose and self-worth and helps you connect with other people.
"Ultimately, we wanted an idea that was more heart-warming than a hamper so, working with ATE, a charity that I have known for many years, we decided to tie the two things together and came up with the idea of giving a 'Gift of Hope'."   
The gifts will contain some humble hand-made items and delicacies but, more importantly, will include a donation on behalf of the partner to the Action Through Enterprise charity. 
The donations start at £10 to feed an underprivileged child, £25 for a 'back to school' gift and £50 for a family grant gift to help families with disabled children who are struggling to survive. 
"We are sending these to all our top partners and all our staff as a recognition for their efforts, to hopefully give them a sense of wellbeing, self-worth and most importantly to help others who are far less fortunate than ourselves," added Haw. 
Ed: Great to see a company really putting some thought into its Christmas gifts in such a difficult time. Find out more at https://ateghana.org/gifts-of-hope/