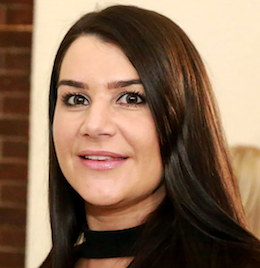 Hats off to TinCan Comms founder Amy Mitchell (pictured) who helped deliver a vital communications solution to Covid-19 patients at Russells Hall Hospital in the west midlands.
Mitchell responded to a tweet by Staff Nurse Sallyann Wright to help fill a 'communications blackhole' in the wards that was preventing patients from being able to call or message their family while undergoing initial treatment and assessment.
Mitchell enlisted the support of rugged CAT phones and its EE supplier Mdee to identify the right phones that could be sanitised and securely connected to the hospital's Wi-Fi connection, something the general public is not allowed to do.
It took the trio of businesses just two weeks to source the right equipment and meet the technical requirements of the NHS' IT system, delivering 10 Cat S52 mobiles for exclusive use on the Emergency Department and Resuscitation wards.
"The NHS and key workers are doing an amazing job and, when we saw the request for help on social media, we knew we had to get involved to try and find a solution," explained Mitchell.
"We quickly got in touch with our EE supplier who advised on Cat phones that would deliver the connection, but importantly are able to be washed, sanitised and even bleached. This makes them perfect for use in hospital and for passing around between users.
"All of the phones have been supplied with unlimited minutes and texts and are Wi-Fi enabled. It is so important that patients, who are ill and extremely worried, can get some comfort and reassurance by being able to speak to their families."
Wright added: "Being alone in a Covid isolation area, surrounded by staff wearing full PPE and with family not allowed to visit you when you are sick, can be a frightening and unsettling experience.
"Our isolation bays are notoriously bad for telephone signal, making it near impossible for sick patients to speak to their loved ones and give vital updates or reassurance.
"We put out a message for help on social media and this was kindly answered by Amy at Tin Can Comms, who supplied us with Cat phones that we could clean after every use and would work on Wi-Fi connection.
"This gave our patients precious contact with those closest to them before they were taken to Covid wards or, in some unfortunate cases, Intensive Care. An unprecedented time was met by unprecedented kindness and we are incredibly grateful for the support."