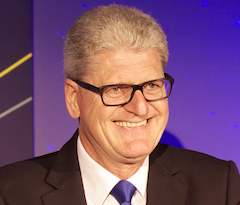 Dear Reader, In this time of crisis when the very fabric of our nation is being torn apart by an unseen enemy, without question the real heroes will be those on the front line, fighting to keep the hospitals and emergency services functioning, the food outlets stocked and the transport and utility systems running.
But there are unsung heroes behind these amazing people and that's you, Britain's independent comms and IT providers.
Without the communications networks, products and services you provide, how would the hospitals, the police, ambulance crews and firefighters operate?  How would the food stores and logistic companies, the government, civil services and utilities function? How indeed, could millions and millions of people work from home, as directed by Her Majesty's Government?
In the long history of our nation, never has the British economy relied more heavily on the skill, tenacity and resilience of the people that keep our nation communicating. You are performing a crucial role in helping Britain win this war.
Amongst all this gloom and doom there are shafts of light. We are told the sales of laptops and headsets have skyrocketed and the demand for SIP trunks and video conferencing solutions has never been greater.
In its 24-year history, Comms Dealer has always championed the channel's efforts and success and in the difficult days ahead we will continue to cover the stories that matter and we'll provide as much advice and information as we possibly can to keep you up to date.
In this lockdown, we know you'll be creating innovative ways to keep customers communicating, so please send us your success stories which will provide inspiration to others. Email: sgilroy@bpl-business.com
And remember, we have 16,000-plus ICT professionals in our readership, so tell us if you require help meeting a need or fulfilling an order, as we can spread the word.
Please note, that unless things change drastically, we will continue to post a printed copy of Comms Dealer to the address provided by registered readers. If you would prefer your copy to be sent to your home address, you can change your mailing preferences using the link provided in your most recent digital copy email. Alternatively, please email our circulation manager Sheila Thiyagarajah at sthiyagarajah@bpl-business.com
A digital version of Comms Dealer is also available to registered readers so if you have not already done so, please register here:
https://bpl.circdata-solutions.co.uk/Microsites/RFG/publish/commsdealer/
There will be many battles ahead, but we are a community and we'll win this war together.
Keep talking and stay safe.
Nigel
Nigel Sergent
Editorial Director, Comms Dealer
nsergent@bpl-business.com