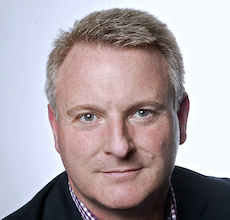 Collaboration tech is centre stage following the shift to home working, but the crisis does not mean we have to be in strategic lockdown, so plan now for the next DX push, urges Richard Roberts, VP, UK&I and sub-Saharan Africa, Mitel.
Strategy can bring reassurance and empowerment, and there has never been a better time for the channel to plan ahead for the widespread digitalisation of businesses, believes Roberts. "Covid-19 has shown how critical seamless communications and collaboration solutions are to the viability of businesses, economies and communities," he stated. "Expectations have been raised for what communication and collaboration solutions can deliver in terms of business resilience, productivity and innovative customer experiences. The channel has a key role to play here in connecting customers with the opportunities to transform their businesses."
Roberts says it is now vital for the channel to have a strong virtual services offering that offers resilience to physical disruptions. "The current crisis has highlighted the incredible value of the channel to our customers, and we are seeing every day that when expertise, customer insight and a fanatical commitment to customer service come together there is little that cannot be achieved," he added.
"We are seeing the importance of quality collaboration and communication for businesses, and the ability to enable employees to work productively from wherever they may be. Organisations need the flexibility to choose their own path, whether this be using on-site, cloud or a combination of both. There is no one-size fits all approach to business communications – only by providing choice can we best support them in achieving their business goals."
Covid-19 has shown just how critical seamless communications and collaboration solutions are to the viability of businesses, economies and communities
Mitel began monitoring the Covid-19 outbreak from the outset of the year and took steps to ensure its business continuity plans were robust and that the supply chain was not interrupted by changes in demand across a range of hardware and software platforms. As part of its Covid-19 effort Mitel is also offering its MiCloud Connect solution with nothing to pay until 2021, along with the option of a six month free trial of its collaborative tool MiTeam Meetings, as well as providing a 50 per cent discount on self-paced training among other offers relating to remote working solutions.
"This is a challenging time for some of our channel partners, particularly those serving industries that have been heavily impacted by lockdown measures," added Roberts. "They may need to rely on us for additional skills, experience or technology. We're working hard to ensure partners have the resources, supplies and support they need. This includes offering our solutions in ways which address the immediate challenges."
Covid-19 has brought an immediacy and urgency to trends that have in fact existed for some time, observed Roberts. "We have been talking for years about telecommuting, dispersed workforces and digital collaboration," he said. "In many instances businesses were already implementing these solutions, to a larger or smaller extent. However, Covid-19 has prompted them to move more rapidly and to appreciate both the value and the necessity in so doing."
Collaboration technology is not just seen as a stop gap while business people are unable to meet face-to-face, pointed out Roberts. "Businesses are recognising that collaboration affords more opportunities for interaction and makes internal networking much easier," he commented. "I believe that more businesses will adopt remote working practices permanently as they experience the benefits first hand. Furthermore, for many organisations, their contact centre lies at the heart of the customer experiences they strive to create and the services that they offer.
"We're working with these customers to help meet the sudden change in demand and to securely enable dispersed contact centre solutions at scale, the likes of which we haven't seen before. I'm impressed by the way so many UK businesses are moving so quickly to preserve and enhance the experience of their customers with new approaches to front-line customer services."
True partnerships, both channel and end customer, have been forged in adversity, and it is those who have shown an ability to meet the challenge by serving rather than simply selling that will see sustained success, says Roberts. "It's a combination of Mitel and our channel together that delivers the diversity of communication and collaboration solutions that empowers customers to meet the challenges they face," he commented.
"Many businesses are only just now discovering the unused potential within their current communication and collaboration infrastructure, while many others are seeing the art of the possible in the actions of others. Our role with our channel is to enable, educate and help those organisations release this value to full effect."