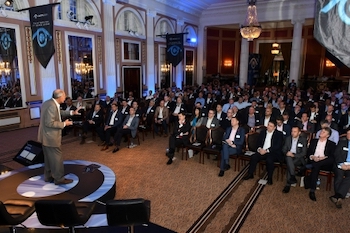 Britain's departure from legacy communications will split the infrastructure market down the middle in terms of pure fibre and 5G, but what happens next is unclear: The binary structure of the connectivity space is not yet fully formed nor grasped, and the question of how impactful the associated technological innovations will be has not been clearly answered – until now. This year's Comms Vision conference aims to clarify the emerging digital opportunities facing the channel and what they could mean for your business.
Day One: Wednesday 6th November 2019
12.55 – 13.10 Welcome comments and introduction
13.10 – 13.50
SuperSession:
Opportunities in Digital Britain: Bringing strategy, direction and vision to cross-industry transformation
The objective of this opening SuperSession is to drive towards the core of what will form a successful long-term strategy, and help to prepare your business for the growth opportunities that lie ahead. The speakers will share their experiences in strategic planning for Digital Britain and offer insights into their own transformation journey with a focus on innovation and disruption as a route to growth. They will also discuss the power of channel partnerships to help organisations change the structure and design of their operations, especially as enterprises begin to focus on the new technologies, applications and OTT services that will be underpinned by pervasive fibre and 5G infrastructures. This is a critical mindset that merits meticulous attention.
13.50 – 14.10
Why you should define your future mobile and UCaaS strategy now
In his session Gamma CEO Andrew Taylor will share his views on how the 'Essential Alloy' of mobile and UCaaS will drive new business models and achieve competitive advantage in Digital Britain. He will explore how digital transformation is fostering an epoch of mobility, and how a controlled approach to mobile will support the key driver of differentiation as we transition to an all-digital environment.
14.10 – 14.30
Harnessing the next phase of convergence in Digital Britain 2.0
In his session, Gerry McQuade, CEO of BT's Enterprise Unit, will open up the debate on the future of technology integration, and explore how the convergence of applications, services and networks will evolve during a complex period of digitalisation. McQuade will also discuss how BT is changing and what this means for its customers and the country, and why both a pragmatic and aspirational approach to innovation and investment will be key in shaping the next wave of products and services that will ensure the channel is well positioned for the future.
14.30 – 15.00
Empowering your business to make a difference in Digital Britain
Former Chief Executive of BBC Ventures Group and ex-Virgin Commercial Director Roger Flynn shares compelling insights into why the alignment of business strategy, customer proposition and values will be key to the success of all Digital Britain change programmes.
15.00 – 15.05 Closing remarks
15.15 – Networking 1-to-1 and boardrooms
Day Two: Thursday 7th November 2019
09.15 – 09.20 Welcome Comments
09.20 – 09.40
Which forces will ultimately reshape the future workplace?
Technology evangelist and author Theo Priestley is also a reformed visionary having lost faith in the capacity of futurism to deliver substantive foresight in strategic decision making. As an anti-futurist he re-examines how the future will look through a hypercritical lens through which he sees technology creating opportunities aplenty, but also threats beyond anything we've imagined. In his session, Priestley will examine the technologies and tactics that will matter most to you and your customers in Digital Britain.
09.40 – 10.00
Driving transformation at the Digital Britain frontier
Executives of tech companies operating at the forefront of industry transformation must be acutely aware of the forces driving change, and chief among them is the roll out of full fibre. In his session, George Wareing, CityFibre Sales Director, outlines how the altnet is enabling the all important switchover from copper, what it means for the channel and why cross-industry consultation is key to promoting sustained infrastructure investment as we advance towards Digital Britain.
10.00 – 10.20  
Why every ICT provider needs a full fibre strategy
In their interview, CityFibre Sales Director George Wareing and a key channel partner consider opportunities in smart cities as we plan for the end of legacy connectivity. They will assess the technologies that are proving most disruptive to businesses and show how CityFibre is planning to underpin this transformation with a fibre exchange strategy, enabling full fibre unbundling, and the launch of FTTP business broadband. The ultimate goal? 'Everyday fibre' – and this interview will spotlight what investments into building Britain's digital future mean to you.
10.20 – 10.40
Evolving services economies in Digital Britain
BT Wholesale's Head of Professional Services Steve Blackshaw focuses on the future of global and UK networks, and how the all-IP network will enable resellers to create new services in the digital economy. Specifically, he will detail the global, economic and social factors driving the move to all-IP and new service economies, and explore the business opportunities this creates for resellers in Digital Britain.
10.40 – 11.00 
The Digital Britain 2.0 dilemma: Balancing the business case for FTTP and Ethernet
The drive towards Digital Britain is disrupting every corner of the comms sector and the pace of change is remarkable for its rapid speed and transformation. No existing business model is immune and the channel could find itself in the grip of a FTTP versus Ethernet quandary, with fears of FTTP cannibalising existing Ethernet business taking an ever greater hold. In his session, Guy Miller, Director of Fibre For Everyone at TalkTalk, will explain the strategic relevance of a balanced approach to Ethernet and FTTP – and why an equilibrium is key for all stakeholders – and to highlight these changes he will also share learnings from TalkTalk's FTTP roll out in York (which proved transformational for consumers), and its collaborative work with partners to jointly design and build the products of the future.
11.00 – 11.20
Innovation and disruption as a route to growth
The transition to Digital Britain is not just about infrastructure deployment, it's about understanding the practicalities that drive digital transformation within UK businesses. To win, channel partners must embrace disruption, grasp opportunities, gain confidence and elevate industry performance. During his on-stage interview, Guy Miller, Director of Fibre For Everyone at TalkTalk, will further crystallise these imperatives and the reasons why channel partners must rethink connectivity now.
11.20 - 11.40
Why we need to rethink value creation in customer solutions in Digital Britain
Gamma Managing Director Daryl Pile and Chief Marketing Officer Alan Mackie assess the impact of technology on the customer relationship model in Digital Britain 2.0, and discuss what partners need to know about value creation in a world where evermore ICT services are consumed digitally and new entrants emerge almost by the day. They will explore practical strategies that see change as an opportunity and discuss why these evolving market conditions serve as a stark reminder that the customer experience is increasingly vital.
11.45 Conference break
12.00 – 13.00 Networking 1-to-1 and boardrooms
13.00 – 13.45 Lunch
13.50 – 14.30
How to build a winning culture in an era of perpetual change?
Against the backdrop of unprecedented industry change you must ask yourself a cardinal question: Where do you want your business to be in Digital Britain, and how will you get there? In his session, Zen Internet CEO Paul Stobart – who was instrumental in scaling Sage's revenues from £120 million to £1.3 billion – will address the key strategic questions you must ask yourself: Where to focus on the future? How to nurture culture, skills and diversity in your business? How to gain confidence in new markets, face threats and develop the resilience to keep pace with unequalled industry transformation?
14.30 – 15.00
Leading the charge to Digital Britain
Comms Vision is joined by Colonel Tim Collins OBE, who brings military precision to teamwork, leadership and motivation, on which he is a pre-eminent authority. In his session, Collins will show how the parallels that exist between business leadership and military problem solving can be honed to improve your strategic planning. His words are as inspiring as they are thought provoking, so much so that a copy of his speech to British troops of the 1st Royal Irish Battle Group in Iraq on the eve of battle in 2003 hangs in the White House Oval Office. For this historic rallying call he is known worldwide, and the strength of his address to Comms Vision delegates will help them to lead, plan and achieve their own transformational business objectives in Digital Britain.
15.00 Closing remarks
15.15 Networking 1-to-1 and boardrooms
It takes Vision to be a leader
Comms Vision is the leading annual leadership forum for CEO, MD and CTO delegates making up the major league of the UK reseller community. Places are limited and by invitation: If you would like to join us this year, please register your interest to attend at www.commsvision.com