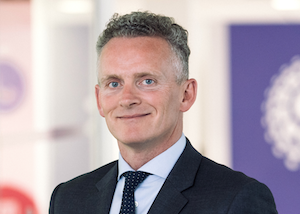 Who will hold the most power in the comms channel today and tomorrow and knock spots off their competition? Those who embrace the digital revolution and show outstanding leadership, according to Comms Vision Platinum sponsor Andrew Taylor, CEO at Gamma.
Taylor took up the reigns as Gamma CEO in May this year with a clear view of how he would go about building on the company's growth to date under the stewardship of former Chief Executive Bob Falconer who retired in April. "Customers care about the easiest way to engage with their clients and suppliers and digital is becoming the best medium to do this," commented Taylor. "Digital to Gamma means looking at how we can best communicate and support our channel partners. We have embarked on our own digital transformation project to ensure we are providing the right tools and technology to our staff so they can be productive and efficient in their roles. We have also digitised our entire OSS and BSS and given partners the tools and knowledge to be successful via the Gamma Portal, Academy and Accelerate." 
The question asked by many is how far digital should extend across businesses but Taylor has long considered digital transformation and what it really means for organisations. "For all the different benefits of DX, the changing demands of customers is a key driver for organisations to up their digital game," he added. "One of the significant changes in customer behaviour is their preference to buy products and services online. Gamma sees this as an opportunity to deliver digital services that are flexible, customer focused and will support our partners' ability to acquire new customers, cross-sell and up-sell."
Taylor discerns that ICT buyers are now seeking the best value and flexibility from their supplier of communications and applications. "This requirement will be met by an expansion of the portfolio that Gamma provides, such as cloud IT applications and more flexible network services such as SD-WAN, enabling partners to consume these services via a single integrated portal," he added.
Taylor also noted that Gamma has developed a strong route to market with Horizon and will enhance the solution with UC. He plans to introduce the first UC offering later this year in 'simple packages' such as collaboration or audio conferencing add-ons. "We have also recognised the need to provide a compliant call recording and a PCI solution on our voice services," added Taylor. "This is an important focus for our development team over the coming months." 
For suppliers to drive real growth in their business they need great digital assets and capabilities
If ICT resellers want to progress they must also seize with open arms the solutions that enable workers to be mobile. Taylor says the rise of the mobile worker and their growing significance is fast becoming a market-defining dynamic. "Staff are spending much more time away from their office or primary workspace than ever before and need the ability to use their business applications on the move," he stated. "For businesses, enabling mobile working is an increasingly vital strategic objective that they need to achieve to be successful and grow." 
The mobility trend has reshaped the way customers buy business communications, even in the SMB market, noted Taylor. "Instead of picking a single product to fulfil a requirement, businesses want a solution that solves a variety of challenges," he added. "The key for partners is to add new solutions that offer a tangible value while also putting themselves in a good position to cross-sell another product or add to the solution with products such as Connect, our fixed and mobile offering."
In preparing for these scenarios partners should first assess their approach to customers, advised Taylor. "Is it a product or solution sell?" he said. "If you are just trying to sell a product, adapt that to a solution sell. And finding the best way to communicate with customers on all stages of their journey is key. Providing mediums like desktop sharing models, video conferencing, live chat as well as having staff that can sit face-to-face with a customer will provide a well rounded and efficient approach to customer acquisition. The strength of the channel is also its diversity and level of local customer knowledge. This is where they will compete against the larger US IT players."
Long-term success in the channel depends on a lot more than product. Partners that listen to their customers, understand how their business operates, the problems they have, and can solve those problems are the ones that will thrive, reaffirmed Taylor. "The partner's value is in selecting product elements to build a rounded and tailored solution that relieves pain points," he added. 
Taylor is therefore set on pushing control and resources to partners as a fundamental component of their future success. "It's about us supporting the channel, which has led to a sharper focus on the service wrap we deliver around all of our products, both in traditional and digital methods," he added. "We've developed our partner portals including Gamma Academy and Accelerate to become self-serve tools, empowering partners to upskill their staff and develop their marketing strategies with modern techniques. A better service wrap from us means partners can deliver a better experience to their customers."
The changing demands of customers is a key driver for organisations to up their digital game
Like Gamma's evolving services portfolio Taylor's industry experience is also all-encompassing in both mature and emerging markets at home and internationally. During the past ten years he was CEO at a number of fast growing public and private companies including Intec Telecom, Digicel and most latterly Nomad Digital. He also ran Alcatel-Lucent in the UK&I and was General Manager of BT Germany, BT Mobile and BT Calls & Lines during his eight year stint at the telco. "I have spent the last 22 years working across most aspects of the communications and IT sector, giving me a strong foundation for my position at Gamma as we seek to design and execute a long-term sustainable digital growth strategy," he commented. "The decision to take the role was a no-brainer."
It takes Vision to be a leader
Comms Vision (7-9th November, Gleneagles Hotel) is the leading annual leadership forum for CEO, MD and CTO delegates making up the major league of the UK reseller community. Places are limited and by invitation: If you would like to join us this year, please register your interest to attend at www.commsvision.com