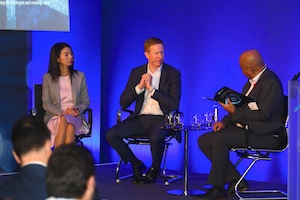 The rule of Digital Britain demands that the future success of full fibre roll out cannot be separated from the creation of a level playing field that encourages competition and an influx of funding, according to CityFibre Commercial Director Rob Hamlin. On that, he believes there can be no compromise.
Also beyond question is CityFibre's intent to play a lead role in delivering Digital Britain following its announcement of a mammoth £2.5 billion investment plan to expand its full fibre network and meet a third of the Government's 2025 target.
"The Government has woken up to the fact that the UK economy needs a digital infrastructure," he stated. "It would be a big mistake to rely on the monopoly. There must be competition. There is plenty of room for investors and infrastructure builders, and it is important that the country emerges from this upgrade with a competitive infrastructure landscape." 
The Government has woken up to the fact that the UK economy needs a digital infrastructure
Without a level playing field, Digital Britain is a near impossible goal, and in a similar vein CityFibre's early doubters were of a mind that  its ambitions were unachievable.
"From the outset a number of observers said we can't do this, we can't dig the streets, but we can and we are," stated Hamlin. "Investors, the Government and Ofcom are saying yes, and confidence in the channel is growing as they see that it can be done. We've always had that confidence."
As CityFibre puts the scale of its investment down into new infrastructure as an alternative to Openreach, replacing the local loop, Entanet CEO Elsa Chen is emboldened by what the investment means to the channel in terms of the greater scale of products it can offer partners.
"The challenge for partners is to translate this opportunity into something meaningful for their business," she said. 
"There needs to be a willingness from partners to change and adapt their business model to embrace Digital Britain. The barrier is not technology, it is the business model. 
"Resellers can make their business fit the full fibre model and continue to own the customer relationship. This could involve sales training and reconsidering go-to-market strategies. 
"There is a general tendency to operate in a reactionary mode, but it's time to proactively reconsider and restructure the business model to embrace the technology."
Chen issued a wake up call to the channel as current modes of operation will prove no match for the business model changes she predicts.
"The coming convergence of 5G and full fibre means partners should create their customer space knowing that new products and services are coming down the line," she explained. 
"This is where competition and differentiation will play out, and represents a huge opportunity for the channel to not only serve full fibre markets, but also identify areas of demand and leverage CityFibre's capacity to build infrastructure into those areas of demand."
CityFibre is one of the UK's most exciting emergent businesses, yet its evolution over seven years from start-up to Digital Britain trail blazer has met with many challenges, and that continues to be the case as it seeks to demystify the full fibre marketplace.
Research commissioned by the company affirmed that swathes of the nation's broadband users are not happy with the quality of their connection nor its speed. 
The majority of those taking part in the survey also believe that broadband advertising rules should be changed.
"A new generation of services are not full fibre and we need to help customers be clear about what they are buying," stated Hamlin, who is on a mission to inundate the Advertising Standards Authority with pressure from industry to take a tough line on cases of misleading advertising.
CityFibre, which acquired Entanet in July 2017, has catalysed a sea change in the fortunes of partners as well as benefiting the homes and businesses located in the regions in which it operates. 
"The channel has responded brilliantly," said Hamlin. "We have connectivity partners scaling from a few customers to hundreds. There will be a gold rush, a bow wave of enthusiasm and opportunity if the UK gets this model right. 
"Full fibre providers will ultimately create an opportunity to offer more services than we can imagine today. We're already trialling new optical platforms and more innovation will follow."
There will be a gold rush, a bow wave of enthusiasm and opportunity if the UK gets this model right
The full fibre infrastructure builder currently works in 54 towns and cities passing 4.5 million premises, but its titanic £2.5 billion funding boost has inevitably greased the wheels of its full fibre campaign convoy. 
The investment follows CityFibre's acquisition in June 2018 by Antin Infrastructure Partners and West Street Infrastructure Partners (a fund managed by Goldman Sachs), and is expected to generate £85 billion in associated economic benefits and create 5,000 construction jobs.
"We're considering over 100 regional towns and cities as part of the current investment plan," said Hamlin. "This will bring a big change in usage and revenue streams as we anticipate a large scale movement of customer bases onto our infrastructure. There is a big opportunity for the channel to ride that wave and deliver new services."