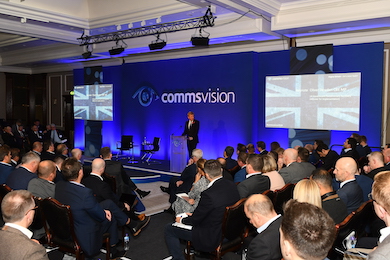 This year's gold standard Comms Vision Convention (8th-10th November, Gleneagles) will take a multi-faceted research-led approach to exploring why many organisations may only be scratching the surface of their competitive potential, and share insights into what is required to forge a long-term edge over competitors based on four key categories – Culture, Industry Collaboration, Technology and Leadership. Here, Comms Vision Platinum sponsors provide insights into how greater levels of industry collaboration provide an essential source of competitive advantage to channel companies.
Increased collaboration makes for a better connected channel ecosystem and a sharper competitive edge, but only when strategic partnerships meet their joint objectives. "The IT and comms industries have a long history of strategic alliances with organisations joining forces to address a specific opportunity, industry or macro-economic challenge," stated Dale Parkinson (pictured left), Managing Director, Connectivity, Giacom. "But how many of these have been genuinely successful for the protagonists, partners and customers? In many ways forming the alliance is the easy part – executing on the concept can be considerably harder. While there are a myriad of challenges to address there are a few which seem to appear time and again. Firstly, unity of purpose. The best collaborations are locked on a singular purpose that is shared, supported and driven by all parties in equal measure. Problems can often lurk beneath the surface where this is absent.
"Secondly, shared value creation. A good collaborative venture should generate new revenues and margins that are accretive to each business. Finally, leadership buy-in. Traditionally, the success of a partnership or alliance needs to be driven from the top to ensure that the appropriate focus is maintained to deliver results."
Parkinson also noted that the comms sector can learn a lesson or two from the software industry which has evolved from set-piece collaborative ventures into interoperable technology ecosystems, where multiple organisations integrate platforms and collaborate to launch new products and services. "Working out how we can replicate this could be a key enabler that accelerates digital transformation for the £10 billion UK SMB market," he added.
Through working better together the end result will be a much improved customer experience, and we'll create differentiation that enhances competitive advantage
Parkinson cited the 2025 switch-off as the most immediate hotspot for technology providers and MSPs, with over two million UK businesses impacted by the move from legacy to digital connectivity products. "The all-IP world opens the door for partners to develop new revenue streams," he stated. "Key amongst these will be the adoption of productivity platforms such as Microsoft 365. We see this as a strong adjacent market opportunity for channel partners to address. Similarly, we expect to see continued growth and increased collaboration in the cybersecurity market. SMBs are the most targeted and attacked part of the UK economy. Almost half of all businesses with less than 40 employees were attacked in 2022, and around 10 per cent of those businesses didn't recover."
Emerging business model
As comms and IT services continue to converge, channel partners are entering a new phase of service provision characterised by multi-vendor solutions and the adoption of as-a-service business models, observed Parkinson. "To enable this, channel partners will need to work in new ways right through the supply chain and out to the customer interface," he added. "Managing this level of engagement complexity can be costly, difficult and time consuming, especially with multiple vendors and solutions on the pitch."
A multi-vendor supply chain is inevitable in the comms market, noted Paul Smith (pictured left), Chief Sales Officer, TalkTalk Wholesale Services. "In telecoms, there is no end-to-end provider of everything," he said. "You have some businesses that provide connectivity, some cloud, some security, some IP voice, and so on. But each of those businesses require a blend of vendors to offer more holistic solutions that will enable end customers to succeed. Therefore, it is critical we work together as an industry to encourage interoperability and facilitate easy ways of working. But it doesn't have to be difficult or resource consuming. Through working better together as a sector the end result will be a much improved customer experience, and we'll open doors to create real differentiation in the market that enhances competitive advantage."
The key elements of supporting a collaborative venture are trust and transparency, believes Smith. "To sustain positive collaborations with both our suppliers and partners we must ensure regular communication and alignment of goals from the beginning of a relationship, so that all parties remain on the same page throughout and are working towards joint goals," he added.
Effective communication, reduced risk and a foundation to address sociological changes and facilitate collaboration should be at the top of everyone's mind
In terms of working-together hotspots, Smith sees equity, diversity and inclusion as an area that will benefit from greater collaboration in the coming years. "We do a huge amount of work on this across TalkTalk, bringing people together to celebrate and elevate diversity in the technology industry, aiming to create a workplace 'for everyone'," he stated. "Employee networks are at the forefront of this, encouraging different groups to come together and share support and experiences. These communities are invaluable in highlighting and educating around religious festivals and anniversaries, cultural celebrations and colleagues' social values. But there are always things we could all be doing better and our culture will continually benefit from shared learnings in this area.
"We also see no signs of slowing in the drive towards net zero. Because of this, our Sustainability Director will join calls with our partners to discuss what we're doing and what they're doing to work more sustainably so we can collaborate to reach our joint goals. Furthermore, in the drive to full fibre, I expect collaboration in this area to only increase."
From a product perspective, Smith says cloud and security will also be key areas for collaboration. Both are thriving with trends showing increasing workloads being moved to the cloud and more complex cyberthreats driving the need for more secure measures to protect today's businesses. "Wholesalers will therefore need to work with a range of vendors to deliver holistic solutions that support end customer needs as they develop," he stated.
This means that more than ever, businesses need to be adaptable and efficient, pointed out Mike Mills (pictured left), Director of Cloud and Infrastructure Partners, Gamma. "Effective communication, reduced risk and a solid foundation to address sociological changes and facilitate collaboration should be at the top of everyone's mind," he said. "In this era of industry change one thing has become abundantly clear... developing competitive advantage through industry collaboration is absolutely key to success."
Gamma has for a long time forged strategic partnerships as well as channel partnerships, and Mills says that when industry powerhouses such as AWS and Microsoft link up with companies like Gamma it becomes obvious that such collaborations amplify value across the board. "For instance, with the AWS partnership we've streamlined the process of transitioning to Amazon Connect, reducing time to value by up to 90 per cent," stated Mills.
"This is bolstered by our Microsoft partnership where we've transformed the way businesses communicate on Microsoft Teams, aiding in the deployment of secure, effective voice and video collaboration. This transformative impact cannot be understated – an impact made possible by partnership and collaboration on a vast and ever increasing scale."
According to Mills, the comms industry's hottest collaboration point is cloud technology. "We acted on this with the acquisition of MissionLabs in 2021 which underlined our belief in Amazon Connect's growth potential," he added. "When it comes to Microsoft, the emergence of Teams Phone offers businesses enhanced operational efficiencies. Our partnership with Ingram Micro to offer Operator Connect for Microsoft Teams to its UK partners exemplifies this commitment to multi-layered collaboration. And we've taken strides in Europe, launching Operator Connect into European markets from 2021. This is an ongoing and expanding venture. Collaborations like these mean customers get the best of both worlds – the advanced capabilities of Microsoft and Amazon paired with Gamma's services."
Challenges
However, every aspect of doing business faces the test of time and collaboration is no different, pointed out Mills. "Challenges like integrating new technologies and maintaining consistent service quality across various geographies are an inevitability," added Mills. "Getting past those challenges involves flexibility, innovation and total, unwavering commitment to the core values of collaboration. But it's not just about big businesses fitting together nicely, there needs to be a focus on human-centric solutions."
Mills also noted that sustaining a collaborative venture demands constant adaptation and foresight, and being ready for the unforeseen. "We build proactive behaviour into our collaborative strategy," he added. "Industry collaboration takes many forms. It's something we live and breathe through strategic partnerships, active engagement in industry dialogues, and a commitment to innovation."
It takes Vision to be a leader
Comms Vision (8th-10th November 2023, Gleneagles Hotel) is the leading annual leadership forum for CEO, MD and CTO delegates making up the major league of the UK reseller community. Places are limited and by invitation: If you would like to join us this year, please register your interest to attend at www.commsvision.com