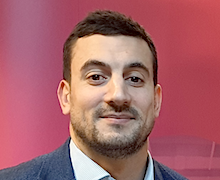 As part of its preparations for a 50+% revenue hike this year Vapour Cloud has appointed Alec Stephens (pictured) as Account Director.
He brings more than 15 years experience in the technology sector and began his career as an inbound contact centre agent, progressing through telemarketing and account executive roles.
It was during a stint at Virgin Media that Stephens first worked for Tim Mercer, CEO of Vapour Cloud. 
Stephens joined the Yorkshire-based company from Exponential-e where he was an Account Director.
 
Mercer said: "I have first-hand experience of Alec's knowledge, tenacity and approach to customer service, and it is exactly this level of acumen that I look for in our colleagues."