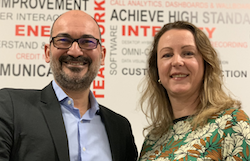 As a marker of its expansion across Europe Tollring has appointed Erica Bleij as European Regional Account Manager. She brings over 23 years of experience in B2B sales.
 
Tollring CEO Tony Martino said: "We are expanding across the region and Erica will play a critical role in helping us to deliver on our product roadmap."
 
Bleij added: "In recent years the hosted market in the Netherlands has grown tremendously but there are still companies that choose on-premise PBX solutions. Tollring's hybrid solution can support those with current on-premise needs."