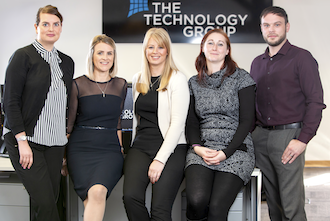 Leeds-based The Technology Group has appointed Key Accounts Director Claire Cawthorne to the Board of Directors. 
The company has also appointed Laura Turner as Platform Manager, Tom Gledhill as Support Delivery Manager, Gemma Dale as Management Accountant and Vikki Robinson as HR & Office Manager.
MD Jonathan Marsden said: "Claire's industry knowledge and business acumen will be integral to ensuring we provide bespoke private hosted communications solutions as we continue to expand our global customer. 
"All of our new recruits have a pivotal role to play within the business as we drive forward with our ambitious growth plans over the next five years, and develop new products and services for an even greater number of clients."
Pictured (l-r): Laura Turner, Claire Cawthorne, Vikki Robinson, Gemma Dale and Tom Gledhill.