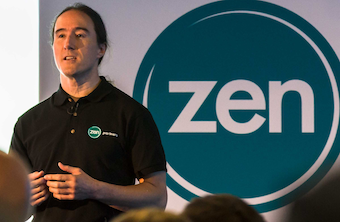 Zen Internet's founder and CEO of 23 years Richard Tang (pictured left) has switched seats with Chairman and former Sage boss Paul Stobart who joined the Rochdale-based ISP in December 2017.
"It was crucial that anyone replacing me as CEO was absolutely aligned with our people-first approach," stated Tang.
"Paul brings that and more: He is an excellent communicator, a visionary, and an inspirational leader of people who brings a wealth of strategic experience in running transformative technology businesses. 
"As Chairman I'll have time to champion Zen's mission to raise standards in the UK's Internet market. We believe these changes will make Zen more successful."
Zen's revenues are expected to exceed £71m this year as staff numbers approach 500. Zen hopes to become a £250m business within 10 years.
Stobart added: "I'm coming on board at a critical stage of development and we have big plans to shake up the market and improve the standards UK consumers and businesses can expect from their Internet supplier.
"This change suits the skill sets and ambitions of Richard and myself. I will bring my experience of running large high growth businesses, while Richard will be able to develop his role as a proactive voice for Zen in the UK and beyond."