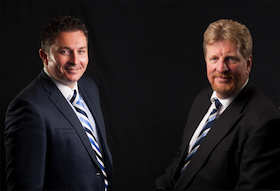 Hats off to swcomms Group Engineering Director Sean Doyle who passed the 25 year service milestone in June. Group Company Secretary Harry Langley marked his 20th year in the same month.
 
MD Brian Lodge said: "These latest milestones mean most of our board members have been formally meeting every month for over 20 years! 
"Harry and Sean are key members of our business and have seen it change and grow from a purely telephony-based company to a multifaceted communication, connectivity and cloud solutions provider.
"They are friends as well as business colleagues and I look forward to celebrating properly with them when we can."
ICT Director John Holdstock celebrated his 20th year in February. swcomms has two other 20-year-plus-ers on the Board.