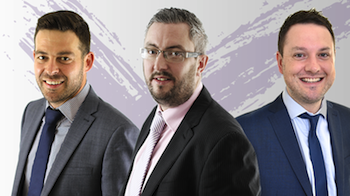 The retirement of long serving Midwich Commercial Director Lee Baker has prompted a management restructure and the appointment of Lee Harris and Ross Floyd to Divisional Director roles. 
Mark Lowe, MD, said: "Lee will leave a lasting impression but at the same time we are excited about the succession plan and these well deserved promotions."
The AV and document solutions distributor provides technology from over 300 vendors including Samsung, LG, Epson and NEC.
Harris will focus on AV while Floyd's remit encompasses AV, document solutions and associated technologies.
Baker, who joined Midwich in 2002, added: "I'm proud of how Midwich has grown from a small Diss-based business to a global player. It's been an amazing journey."
For the first six months of the year ended 30th June group revenue increased by 24.8% to £264.1m. 
Pictured above (l-r): Lee Harris, Lee Baker and Ross Floyd.