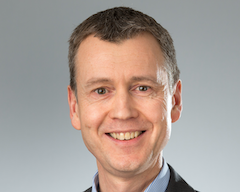 Alan Mackie (pictured) has stepped down from his full-time role as Chief Marketing and Product Officer at Gamma.
Mackie joined Gamma in 2006 as SIP Trunking Product Manager and was instrumental in launching a range of next generation products including SIP Trunking, Horizon, Collaborate and Inbound Call Routing. The latter all became successful products in the market, but Mackie says he gained most satisfaction from developing the Horizon product set. 
"Gamma has grown considerably over the past few years, but has kept customer and partner success at the heart of its ethos and as a result our partners have a great opportunity to grow their businesses and provide innovative services to their customers. The next few years will be exciting for the industry."
Stepping into Mackie's shoes is new Chief Marketing and Product Officer Chris Wade who joins from Aptitude Software where he was Chief Product Officer.
Prior to this he held leadership roles in strategy, product management and marketing at The Sage Group, one of the leading providers of business management solutions to SMEs globally. 
"Gamma is an innovative company with a clear vision for growth, and it is a privilege to take over Alan's role at such a significant time. I have worked closely with Alan to ensure a smooth transition and I am looking forward to continuing to drive Gamma's strategy and priorities in the coming years," said Wade.