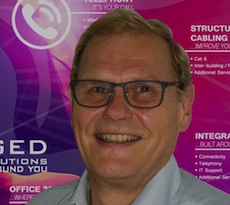 Aberdeen-based IT firm Converged Communication Solutions has appointed Mark Johnson (pictured) as IT Delivery Manager, a newly created role. 
He's worked in the IT sector for 35 years and managed IT operations for office moves, infrastructure refreshes, new system deployments, company acquisitions and their integration.
"My job is to work with SME organisations to deliver an IT audit and then lay out a clear and non-technical vision for IT change over a set period of time, detailing essential and non-essential works and related costs," said Johnson.
"All businesses should be able to access enterprise level IT services, not just larger companies."
 
Converged MD Neil Christie added: "Lockdown created a seismic shift in how people work and underlined the need for organisations of all sizes to have robust systems and technology in place to enable staff to work safely and efficiently outside the office.  
"These themes will only strengthen in the future and everyone needs to be prepared for that."