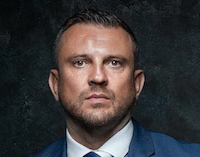 Customer demand for full scale digitalisation services prompted Bolton-based Telesis to plug a portfolio and skills gap by partnering with Yorkshire HQ'd Vapour to supply its Sanctm product suite. 
Telesis hopes the partnership will provide up to a 20% boost in turnover over the coming three years. 
Telesis MD Christian Bleakley (pictured) said: "The technology sector is becoming increasingly crowded with suppliers vying for customers' attention, which can make it difficult for organisations to know where to turn.
"We've built a solid reputation in the telecoms market but when it came to client requests for wider digital transformation support this was a gap we couldn't previously plug.
 
"The relationship with Vapour will allow us to expand our service offering to existing customers while enhancing our proposition for new prospects."
  
Vapour CEO Tim Mercer added: "We're big believers in concentrating on our own niche and fostering partnerships with other organisations to leverage expertise in their key areas."