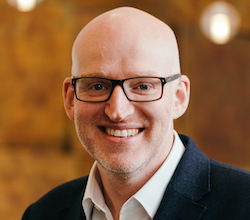 Node4 began its cloud journey far early than most and continues to work at the forefront of digital transformation, according to Managing Director Paul Bryce.
Cloud is the driving force behind digital transformation and partner success hinges firmly on aligning customer strategy with current cloud technology trends and capabilities, according to Bryce. "Organisations have come to understand the importance of not merely adopting the latest technology but ensuring its relevance and alignment with key objectives," he stated. "The cloud-first approach, for instance, has often been likened to putting the cart before the horse, but it's essential for organisations to first comprehend their objectives and then determine how technology, like cloud services, can be leveraged," he added. "Similarly, while AI stands out as a major trend its adoption must align with an organisation's broader vision.
"Our job is to facilitate these tech-enabled outcomes, ensuring that tech solutions deliver on organisational goals. Furthermore, Environmental, Social, and Governance (ESG) factors are gaining prominence in boardroom discussions and the focus is also on how technology can be applied to address these concerns."
Node4 launched in 2004 with a team of three working out of an office in Derby. It had a strong emphasis on network capabilities and as its reputation grew so did demand for its UK-based data centres. Subsequently, a shift towards the as-a-service model led the business into the realm of cloud offerings. "The vision was to deliver cloud, but no one called it cloud at the time," stated Bryce. "It was hosted applications. Today, we are supporting private and public sector organisations across the UK to deliver positive outcomes through our portfolio of fully managed services."
We are refining our channel portfolio to make it sharper and more targeted
Node4 currently employs circa 1,150 people serving 1,800 clients from 15 locations in the UK and internationally, and has a turnover in excess of £200 million. It owns its own network of data centres, points of presence and operates what it says is best-in-class integrated tooling. "Our philosophy emphasises ownership and control, which is why we have built our own data centres, networks and infrastructure to underpin cloud services," added Bryce.
Scaling the business has been achieved through a blend of organic growth and strategic acquisitions, with 10 made to date. "Our acquisition strategy is holistic," stated Bryce. "It's not just about financial alignment but also ensuring a like-minded approach, shared values and culture. This often involves acquiring skill sets, innovative technologies or access to fresh customer segments, but always pursued with the integration of like-minded teams as a priority. This underlying ethos has been a catalyst for our acquisitions.
"We understand that every organisation has distinct objectives and many of our clients want to work with an integrated and reliable tech partner. This informs the strategic choices we make. We also place high value on our partner community. We've been working hard behind the scenes to rejuvenate our channel programme, including bringing in a new leader and launching a new channel website later this year. We are also refining our channel portfolio to make it sharper and more targeted, including engaging with partners to equip them with the tools and resources to solidify their positions as trusted tech providers."
Another of Node4's focus areas is its security offering, supported by the recent acquisition of ThreeTwoFour, a specialist in information security and technology risk. "While Node4 already had security offerings with its own SOC, we identified the need for a deeper investment in this area," commented Bryce. "ThreeTwoFour bridged a specific gap, particularly in consultancy and investigative professional services, enabling us to advance in these areas."