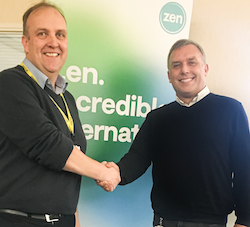 Cloud contact centre provider Difference Corporation, part of FirstCom Europe, has joined Zen Internet's partner programme.  
"The team at Difference will marry their contact centre expertise to Zen's connectivity and cloud capabilities," stated Zen's Head of Partner Sales Ian Millward.
Difference has over 8,000 UK customers and 13 offices across Europe. 
Zen was founded over 25 years ago and has more than 600 partners.
Pictured (l-r): Trevor Geraghty, Sales Director and founder at Difference Corporation, and Ian Millward, Head of Partner Sales at Zen.