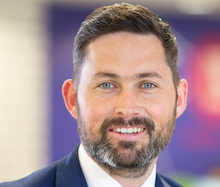 The channel's capacity to grow across key expanding tech markets could be near limitless, according to Gamma's Managing Director for Channel Daryl Pile.
He even mooted the possibility of Gamma one day becoming a billion pound revenue powerhouse, such is his strong belief in the high growth potential of partnerships.
Reaching sustainable profitability in 2006 and taking the necessary risk on VoIP services, which led to transformational growth between 2010 and 2012, put Gamma on course to becoming a billion pound company, according to Pile. Moreover, a structured and inclusive approach to strategy and culture, along with recent expansion into Europe and a focus on UCaaS provides another strong foundation to build on, he believes.
"Since Gamma's AIM floatation in 2014 we targeted and achieved double digit revenue growth, gross margin and EBITDA," he commented. "As we enter a new chapter with clear strategic goals in UCaaS, digital delivery, expansion into Europe and our core markets, the question is how far can the channel advance and grow? Industry analysis indicates that the channel provisions over half of all new SIP business in the UK. So why can't we do the same in data, mobile, UCaaS and security?"
Digitalisation is everywhere, speeding everything up, and our customers are being influenced by the immediacy of product delivery, consumption and service
Pile's current priorities are to continue driving growth in core markets with a focus on Horizon Collaborate, the company's UCaaS service, while also building momentum in mobile. "It is becoming congested at a vendor level," he observed. "Many new entrants, particularly in hosted PBX, mean the UK market is not large enough to provide sales based on every platform being 'leading edge', 'highly resilient', 'scalable' and 'highly automated'. How this market consolidates and finds equilibrium without a race to the floor on price is a challenge Gamma is ready to meet."
New technology areas of interest to Pile include digital platforms that have been designed to sell and self-serve. "They meet the demands of an increasing number of customers who prefer to interact and buy services digitally because it gives them a better experience," he said. "AI will also improve the customer experience, and the integration of different connectivity types, especially wireless, is essential because customers expect services regardless of time and place. We need to be ready for that.
 
"Over the long-term many of the services we provide will be simplified, particularly as cost-effective broadband connectivity becomes more affordable yet capable of providing high definition video and voice for the office. APIs and digital interfaces will mean the customer is able to do more, instantly, but laid out very simply. This trend towards simplification means partners need to think carefully about where they are adding value. Digitalisation is everywhere and speeding things up, and our customers, both business clients and channel partners, are being influenced by the immediacy of product delivery, consumption and service."
 
Digitalisation has defined the channel's destiny, and to a large extent the innovative nature of the tech sector helped to define Pile's career path. "My early interest in business and technology, the fast paced nature of the buoyant telecoms market, and working in the city of London with an opportunity to earn enough to provide well for a future family were all factors that attracted me to the sector," he said. "After completing a degree in Business Economics I saw that the telecoms and Internet market was evolving exponentially. I signed up with a recruitment firm that specialised in that sector and my first job was at Telia's UK Office in 1998 where I was placed into the channel business unit. The channel was dominant in terms of revenue and margin, but under served in focus by Telia and across the wider industry.
"At that time I wondered what could be achieved if we focused more on the channel, then along came Gamma. It bought a high-quality network in Atlantic Telecom at a low price and needed to light and fill it. During the three years after Gamma purchased Telia's channel business in 2002 the subsequent organic growth confirmed that the channel route to market could be sustainable and profitable in the long-term which is exciting.
"Now I am wedded to the comms sector and Gamma, and did not hesitate to grasp the opportunity to work with a great management team and channel partner base as Gamma's Managing Director, empowered to make the changes required for channel expansion and growth."